Case
Learning is the key to our existence. The human desire to learn new skills has always been on the rise. Today, people are more motivated to acquire mastery in practical skills like carpentry, driving, sailing, and so on. For many, one such fascinating and highly desired area of exploration is the field of aviation.
Our client, a well-known player in aviation training, wished to bring the learning experience to aspiring pilots and aviation enthusiasts out there. They approached TA to create a spectacular VR aviation training solution, and we worked together to make that desire a reality.
Challenge
Our client's wish was to develop an application that would host the training videos, interactive forums, chats, and so on, which was available to everyone. The idea also addressed demands such as incorporating 360° videos as well as Virtual Reality in aviation training to make it more immersive. The development came with a number of obstacles that had to be handled in order to provide customers with a trouble-free training experience.
Among the challenges were:
Both the Android and iOS platforms are supported
Playback of video in HD, Full HD, and 4K resolutions
UI/UX that is fluid and dynamic
Display videos in normal, 360°, and VR formats.
VR menu that allows the user to utilize the application without removing the VR headset
Solution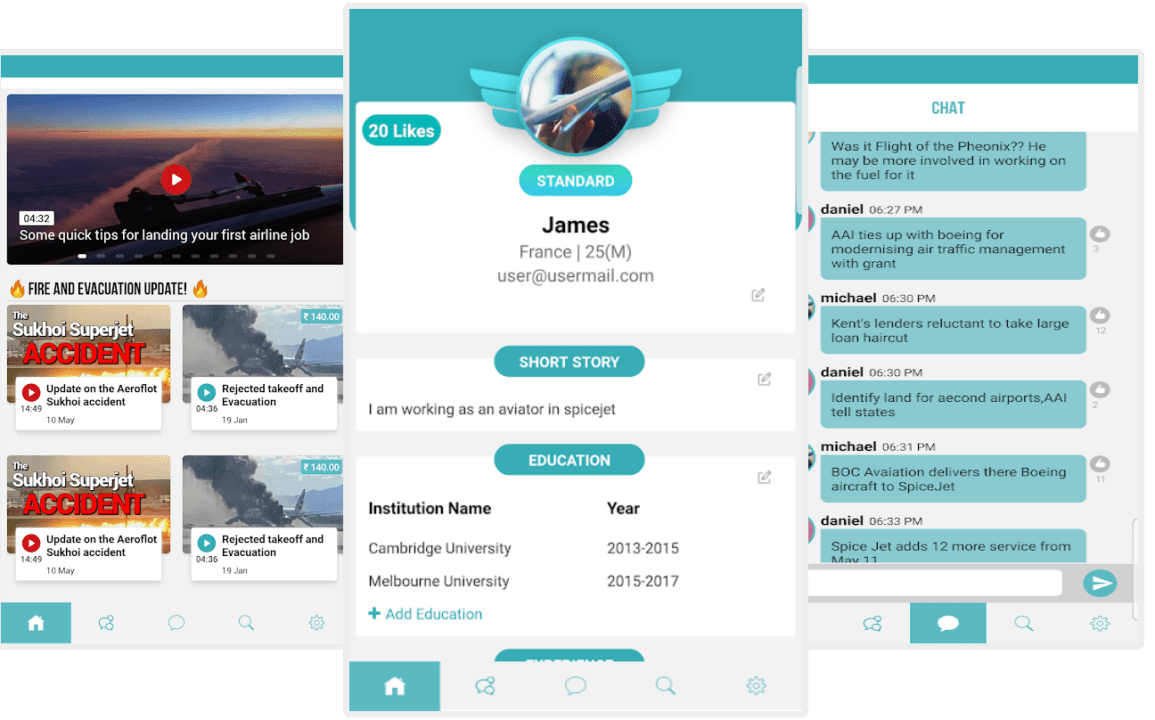 After learning about the client's various requirements, our skilled team devised a strategy for implementation. The client created the video content for the application. Our team created an SDK for rendering standard, 360°, and VR videos. A simple but eye-catching user interface was designed. The VR flight training application offered features such as chats and forums, which were easily accessible by icons once users opened the application. Our team made certain that a VR menu was also included so that the user would never have to remove the VR headsets in order to access other videos or functionalities of the application. The customer also required the introduction of in-app purchases of extremely advanced training videos; we ensured that the purchase and the flow of acquiring the same were as user-friendly as feasible. Another key feature the client requested was the introduction of live streaming capabilities, which our team accomplished without difficulty. Also, in order to provide a better VR experience, we also had Google Cardboard in mind while developing the application.
Administrative features incorporated into the application:
Upload 360°and normal videos
Include video descriptions
Content categories allocation
Make an in-app purchase decision
YouTube vlogs incorporation
Impact
For a long time, the functioning of our educational system has been a source of debate. There are numerous approaches that can be taken to make the learning process more appreciable, accessible, and enlightening. The VR aviation training application developed by our team, made a name for itself in the aviation training market, thanks to its carefully curated user experience and VR capabilities. VR for pilot training was not a common attribute for application in the domain, which did add to the appreciation of the application.
Through the utilization of TA's extensive experience in various technological domains, the app attained several golden feathers to its crown:
Highly immersive training experience
Application is simple to use
simple and secure purchase of a training course
Cross-platform application with no functionality loss
Expertise
Travancore Analytics, with its comprehensive expertise in a wide variety of technologies such as Extended reality, IoT, web and mobile applications, and much, brings you a huge number of possibilities.

Learn more about our Extended Reality, IoT, Web and Mobile applications, and more.
Technologies