Case
We've come so far with technology, and we've seen incredible advancements through the ages that once seemed impossible. From the connected home hubs, Bluetooth-enabled cars, smart thermostats, remote door locks, and every app-controlled device, the number of smart devices in our lives has gone through the roof. Thanks to the Internet of things technology (IoT), we have all these smart products in our daily lives making our lives better. Anyone with a smartphone or computer nowadays may obtain the data on the physical devices to which they are connected by simply connecting them to their computer or smartphone via the internet.
Our client, a market leader in air conditioning, commercial facilities, and hydroponics, wished to employ IoT technologies to streamline their Heating, Ventilation, and Air Conditioning (HVAC) industry. They approached TA to develop IoT-enabled HVAC monitoring and control systems for a better understanding and diagnosis of problems before they became a major inconvenience to the customer in the form of a health hazard or a significant financial expense to replace the equipment.
The client approached TA with patent-pending hardware and technology that monitors equipment and proactively warns and notifies contractors and homeowners so they may take action to diagnose the problem before it becomes a serious concern in terms of a health hazard or a significant repair expenditure. They wanted to build an HVAC remote monitoring and control platform that provides peace of mind to small business owners who are contractually bound to maintain the HVAC equipment in their rented space in order to prevent losing clients and revenue due to a lack of air conditioning.
Solution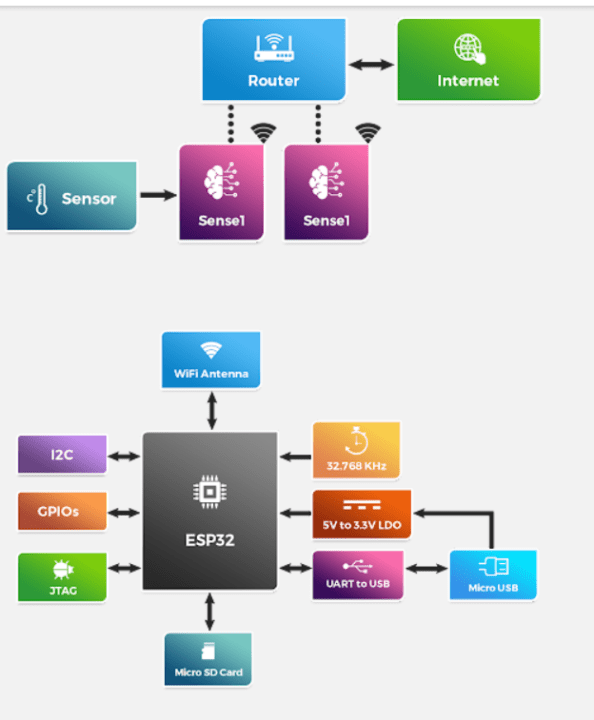 Joining forces with the client's vision, our team developed a HVAC monitoring platform that examines the malfunctioning sensors, provides easy access to sensor details for customers and contractors, and warns consumers and contractors of abnormal sensor data. Both the hardware and the web interface were built by our team.

HVAC Monitoring System - About the Hardware

We developed Sense1, an ESP32-based hardware platform with IEEE802.1 WiFi and sensor interfaces through BLE/I2C/SPI. Additionally, it supports MQTT connectivity to a remote server. Sense1 works as a data acquisition node, acquiring data on a continuous basis and publishing it to a distant MQTT server.
Features and benefits
Compact
USB power platform with built-in WiFi and Bluetooth
MQTT supports TLS/SSL for encrypting connections between devices and the broker
Easily scalable by adding more units
HVAC Monitoring System – Web Interface
The sensor nodes collect data and transfer it to web- or mobile-enabled devices, which subsequently notifies the users. It captures the sensor data in real-time and shows it on a web portal, on a mobile device, via color status notifications, as well as through email. Additionally, they provide mutual control between the fan and the air conditioner via the Internet of Things, based on a set temperature threshold.
Features and benefits
User Management: Role-based users for each organization
Device management

Add a sensor box and its details such as box name, box model, location, address and mobile number
Grouping of sensory boxes into logical units to show the overall status of the group

Device Configuration

Highly scalable sensor pin configuration
Sending sensor configuration to the device

Dashboard: A map that illustrates the locations of sensors and shows the current status of the sensor
Export Sensor Data: Download the sensor data as a report sheet based on a specified time period (both Individual and group)
Graphs: View the sensor data as a graph-based on a specified time period.
Schedule the maintenance activities in each sensor boxes
Impact
As our lives grow increasingly complicated and fast-paced, the Internet of Things will undoubtedly become a vital component of them. Smart IoT-enabled HVAC monitoring and control systems can automate, keep critical control and maintain crucial data and provide a wealth of information relevant to customers, manufacturers and maintainers. These forecasts and preferences will drive the flexibility and adaptability of smart systems around the world.
Implications of IoT-based automation
Real-time data generation
More control for customers
Early alerts for maintenance
Reduce downtime
Improve safety and preparation
Smart HVAC systems have already demonstrated their capacity to customize for users, produce maintenance warnings, increase comfort, and conserve energy, and they will continue to improve as IoT technology advances.
Expertise
With the world rapidly digitalizing in the storm of the fourth industrial revolution, our expert team can help you realize your digital transformation goals with our innovative and cutting-edge IoT solutions and our capacity to deliver them to any industry or enterprise, regardless of the work environment.
Technologies