Case
The increased demand in e-commerce has thrown open new challenges in ensuring faster and trusted service delivery and logistics management. The disruption after disruption in the retail and e-commerce sectors poses difficulties for the management, movement, and coordination of supply chain trucks that are either overfilled or standing idle in warehouses or on their return journey. Navare solutions wanted to help their truck drivers and the depot staff engaged in the e-commerce activities with logistics management software solutions and barcode scanner app for inventories that will enable them to scan items, work offline and integrate applications with existing applications and make their jobs easier.
Challenge
Our client wanted the timely and automatic updation of the latest fixes and important delivery information to their depot staff or truck drivers without any delay. They also wanted their truck drivers to operate offline in cases of improper internet connectivity affecting pickup and delivery. In order to ease out these challenges, they approached TA.

The challenges faced by our client were:
Up to date updating of changes in workflow or screens to depot staff or truck drivers
Improper internet connectivity affecting pickup and delivery
Difficulty in assigning different jobs in an area or route to truck drivers
Scanning of wrong barcodes, especially in the case of an international freight or freight commuting through multiple networks
Drivers being unaware of their current battery percentage
Solution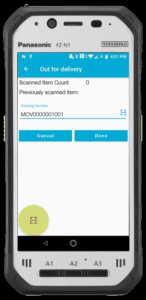 In order to address the specific challenges faced by our client, we designed a logistics management software solution with barcode scanner app for inventories enabling the dynamic screen designing for the up-to-date and automatic updation of changes in delivery. Offline compatibility was enabled for drivers to scan and update items offline. The application will automatically sync the performed action when internet connectivity is stable. Based on the current location of the driver, the application can suggest the best route for delivery and management. To alarm the drivers of their battery percentage, we designed a change of color to red when the battery goes below a threshold value.


The following solutions were incorporated:
Dynamic screen designing to avoid forced updation
Offline compatibility for drivers to scan and update items when out of internet connectivity
Suggest the best route for the drivers based on the current location
Introduced ticket validations through prefix to avoid scanning of wrong items
Change of the color of the notification bar and theme to red when the charge hits below a threshold value
With this application, the truck drivers are able to perform their tasks using devices like Panasonic FZ N1, Honeywell CT50, and Zebra TC57. We also developed a ready-to-install logistics management software for android smartphones making them work similar to a scanner using its camera. Also, scanner devices are assigned to individual drivers and if they log in from other devices or they change the device assigned to them, the administrator will be notified. Collection of location information during delivery scanning or pickup scanning is incorporated which helps both the drivers and the customers to locate their items. This feature will also enable tracking of routes and of drivers. Communication between drivers, loaders, depot staff, and the admins happens across the chat feature in the functionality. Also, push notifications are enabled to notify about new messages and new jobs assigned. Other features include a Health check, where the drivers will have to answer some questionnaires in order to confirm they are all good and this information will be recorded for further use.
Impact
TA's expertise in mobility was used to build the app with reusable code within an estimated time and budget. The application is designed to support multi-tenancy. So, different companies or organizations can use our application at the same time. The actions of the drivers or loaders are saved as raw data in our application. So the integration of our application with any of the existing applications can be done smoothly and swiftly.
Expertise
Our skilled logistics management software development team performed developer testing, followed by code review, ensuring standard and consistent code. Used state-of-the-art tools and technologies to manage every aspect of the software product development life cycle. Utilized TA's proficiency in mobility to provide an application where the screens can be dynamically designed from the web application associated with the mobile application.
Technologies