Case
The mass production movement utilizes manufacturing management systems with centralized value management to ensure the production of high-quality products by preventing defects. These systems streamline and centralize management processes, verify calibration, automate measurements and decision-making, handle multiple measurements, and monitor trends. This approach is instrumental in maintaining quality control in manufacturing, particularly in high-volume production environments.
Our esteemed client in Japan, a recognized leader in the field, engaged our team at TA to develop a specialized application tailored for their Quality Control (QC) team members operating on mechanical parts production lines. The client was looking for an innovative application for production line quality control in verifying that dimensions conform to specified tolerances, thereby significantly reducing defects, enhancing overall productivity, facilitating efficient machine maintenance, and expanding the capacity of the QC team.
Challenge
Mass production systems, designed to maximize efficiency, often encounter challenges when implementing 100% inspection processes in the dynamic landscape of production line quality control. This can often lead to reduced efficiency, increased labor costs, and extended work hours. While ensuring top-notch quality is crucial to meeting client specifications, implementing quality control measures improperly can cause risks.

Recognizing these challenges, our client sought a comprehensive solution for gathering measurement data from devices such as Stick-PC via Bluetooth or Tablet PC. The solution needed compatibility with Stick PC, Uwave, Patlite, and SQL DB. Additionally, the client required a system that stores detailed part data and allowable ranges in network storage, ensuring easy download and updates for client PCs. Moreover, the system was designed to include alarm mechanisms and control lights, responding to the severity of measurement errors. This approach ensures precise quality control and streamlined processes, aligning seamlessly with the client's operational needs and requirements.

QC team. Moreover, the client also had other specific requirements for their production line quality control system, such as:
— Collection and analysis of accuracy metrics, including tolerance deviation and tendency time
— Regular calibration of measurement devices 
— Enhancing machine maintenance
— Regular and automated management of measurements, including automatic judgments
— Inclusion of appropriate software licensing
— Localization of application
Solution
In tandem with the client's operational needs and requirements, we developed Line QC, a production line quality control application to verify that dimensions are within tolerance, reducing defects, boosting productivity, aiding machine maintenance, and expanding QC capacity.

This tool plays a crucial role in enhancing quality inspection, control, and defect prediction, ultimately preventing the production of defective items. Line QC is a dynamic quality control solution for manufacturing that allows users to configure products, processes, parts, machines, measuring devices, and measurements.

The application simplifies measurements by mapping each product and process to pre-configured parts and setting the order of measurements. All the information is saved as master data in a CSV file. Devices like U-WAVE-R, calipers, micrometers, and Patlite are seamlessly integrated, making the measurement phase more straightforward. The quality control personnel overseeing the mechanical part production line can use Line QC to ensure that dimensions are within tolerance.

Line QC includes an inspection screen that facilitates data analysis and product part measurements. Additionally, it stores all part master data, including details and allowable ranges, in network storage for easy access and updates on client PCs. Line QC further streamlines regular instrument calibration, offering configurable measurement components and tools for pre-shipment, acceptance, and in-process inspections.

The application efficiently receives measured data from devices via Stick-PC over Bluetooth or Tablet PC, allowing for optional use of Stick PC, Uwave, Patlite, and SQL DB. The application displays and analyzes measured data on-screen, supports uploading of measured data to a server for future analysis, and features alarm and control lights based on measurement error severity. Leveraging SQLite, the application creates a master database and collects data for external applications. The comprehensive solution includes software licensing and supports both English and Japanese languages, ensuring versatility and adaptability to diverse manufacturing environments. The data collected is used to analyze machine accuracy (tolerance deviation over time) and line QC capability.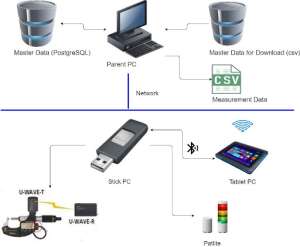 The solutions provided include:
— Simplified regular instrument calibration
— Data analysis and product part measurements
— Data is stored in network storage for easy access and updates on client PCs
— Measured data can be received from devices via Stick-PC over Bluetooth or Tablet PC
— Display and analysis of measured data on the screen
— Uploading of measured data to a server for future analysis
— Alarm and control lights based on measurement error severity
— Supports both English and Japanese languages
Impact
In the realm of business, reputation and customer satisfaction form the bedrock upon which the success and longevity of any enterprise stand. The reputation and customer satisfaction levels of a business receive invaluable enhancements through the pivotal role of line quality control in ensuring that products consistently meet the required quality standards. 
The Line QC application was developed to perform routine inspections at every stage of the production process, allowing for the early identification of patterns, ranging from normality to abnormality judgment and variation status. This foresight serves as a proactive measure, effectively preventing the development of faults before they can compromise the quality of the final output. Within any manufacturing or production process, the Line QC application stands as an indispensable step, dedicated to preserving the integrity of the end product. 
The other benefits of the Line QC tool include: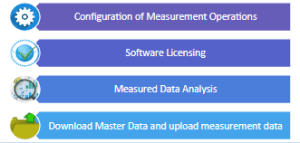 Expertise
We understand the critical role that component inspections play in the larger context of mass production. Leveraging our seasoned team's expertise, we offer comprehensive support in developing solutions for efficiently managing mass production processes, specifically focusing on overseeing component inspections within the mass production plant.

Our proficiency extends to the implementation and optimization of applications with the capability of cutting-edge production line quality control technology, ensuring a seamless integration of inspection protocols and data collection procedures. With our expertise, rest assured that your production line quality control will not only meet but exceed the demands of the ever-evolving manufacturing landscape.
Tech Stack