Case
Getting on a flight and traveling is something many of us take for granted. We seldom think about people with disabilities who rely on service dogs for assistance, it is a challenge to take them on travel as airlines have specific rules and regulations. Under the Air Carrier Access Act (ACAA), a service animal is any animal that is individually trained or able to provide assistance to a person with a disability, or any animal that assists people with disabilities by providing emotional support. Proper documentation is required for passengers needing to travel with service animals. Our client is a non-profit organization working constantly to provide travel solutions for people with disabilities. The organization focuses on creating a society in which all people with disabilities have the same consumer opportunities as everyone else. They approached TA to develop service animal travel solutions, an application for passengers traveling with service animals to submit their service animal air transportation form for airline travel.
Challenge
Under the amended regulations, airlines may require passengers traveling with service dogs to submit a completed form with information and assurances about the animal's training, health and good behavior.

Under the new Department of Transportation (DOT) law regarding service animals, the Service Animal Air Transportation Form must be submitted 48 hours before traveling with service animals. The Service Animal Air Transportation Form is intended to allow airlines to receive direct assurances from the individuals who rely on service animals of their animal's good behavior and training. The DOT forms are aimed at assisting passengers traveling with service animals so that they are no longer required to navigate multiple forms from different airlines. At no cost, the passengers have the independence and control to maintain a valid form on file which will be used for every trip on participating airlines.
The challenges faced when traveling with service animals include:
Airlines require a traveler with a service animal to submit a DOT Service Animal Air Transportation Form when flying with service animals
Complex travel documentation process for people with disabilities who rely on service animals
Completed paperwork should be submitted at least 48 hours prior to departure
Solution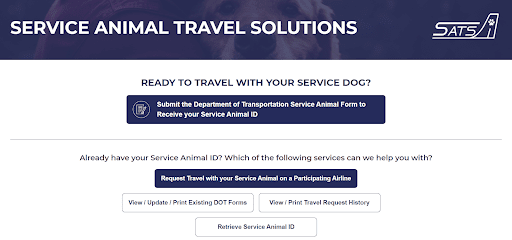 To help airlines simplify the air travel process, our team joined hands with the client for service animal travel app development. Our team built service animal travel solutions, an application for passengers traveling with service animals. The application had a travel and carrier portal for the centralized DOT forms. This convenient, centralized database for mandatory DOT service animal forms is also designed to simplify the process and be cost effective for air carriers, domestic and international.

After filling out the electronic Service Animal Air Transportation Form, the traveler receives a unique identifier for that handler/animal combination. After booking on a participating airline, the traveler submits the unique identifier through the SATS system to receive authorization for travel, which will be confirmed through email. The application allows users to update their DOT forms as necessary. For instance, if vaccination dates or any other information has to be updated, the app makes it all possible.
User Roles
Travel portal for persons traveling with service animal to submit DOT form
Carrier portal for airlines managing travel requests from users
Camera button to capture screen recordings excluding the 2D elements which can be shared over Airdrop, mail, etc.
Admin portal for admin to manage DOT forms and reports
Key Features
1. Travel Portal
— Submit DOT forms and travel requests
— Email notifications on submit/update forms
— On-demand PDF generation for DOT forms
— Assistance in retrieving the service animal ID
— View travel history
2. Carrier Portal
— Role-based access (Admin, Supervisor, Agent)
— Approve/reject travel requests
— Email notification on approve/reject forms
— Report incidents on animal behavior
3. Admin Portal  
— Carrier Management
— User Management
— Forms
To review and process DOT forms submitted by travelers
To view travel requests
Approve/Reject the forms
— Reports
— Configuration
Notification configuration (frequency, turn on/off notifications)
Email template configuration
Invalid keywords for flagging DOT forms to In-Review
— Dashboard
Overview of the whole process – DOT & Travel form count, status etc.
Various chart
Trends on date basis
Analytical reports
The application meets the Americans with Disabilities Act (ADA) regulations for accessibility. We have taken care of all accessibility rules while developing the portals:
Content structuring
Readability
Link text
Accessibility for all files
Color contrast
Fonts
Keyboard accessibility
The solutions incorporated were:
Cloud native application to track the status of the travel requests submitted by passengers by Air carriers and SATS admin
User role-based travel solutions such as Travel portal, Carrier portal, and Admin portal for admin to manage DOT forms
Ensure ADA regulations for accessibility
Comply with the CTA and GDPR requirements
Single database to be used by all carriers
Monitoring and management of cloud services
Impact
Digital accessibility can level the playing field for people in the disabled community and allow for inclusion in all spheres. It is important that people with disabilities who need their service dogs to travel like everyone else. Our service animal travel solutions are aimed specifically to fulfill that goal.
The implications of the application on the lives of people with disabilities include:
Streamline and centralize travel solutions for passengers and airlines
Actively improve the airline travel experience for passengers with disabilities
Make the service animal travel solutions documentation requirements and electronic form submission processes easier
Expertise
At TA, we are focused on breaking barriers to ensure digital accessibility with next-generation solutions. With our wealth of experience in the field of accessibility application development, we strive to build inclusive solutions with accessibility in mind and ensure that each and every user is able to get the most out of the application. Our goal is to maximize user engagement through digital equality and develop innovative solutions to better everyone's lives.

Technologies