Category: custom software,software development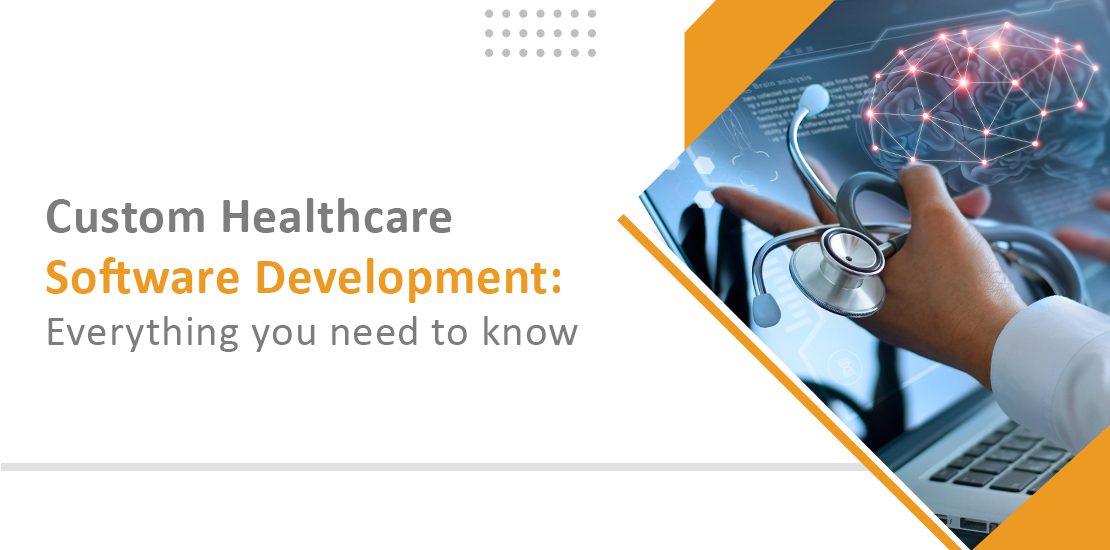 The COVID-19 pandemic is one of the key events that has disrupted the global order. It has posed a severe threat to the global health industry. Challenges trigger the revolution cycle. The healthcare industry did the same in reaction to the pandemic, which paved the path for increased technological intervention.
According to Merritt Hawkins' poll, a new patient's first appointment with a doctor takes an average of 29.3 days. And with such a concerning statistic, the pandemic could have tragic consequences if nothing is done. Custom healthcare software development was one of the primary changes to solve the rising challenge.
To begin with, healthcare software development services are involved with the digitalization of all systems, which entails expanding portability and enhancing the security of patient information and medical records. In addition, this approach advances telemedicine and telemetry by allowing patients to be medically monitored and diagnosed without visiting a hospital. As a result, the chance of becoming infected and spreading the virus is reduced.
What does it mean to develop Custom Healthcare Software?
Custom healthcare software development produces more bespoke, personalized end products, whereas off-the-shelf software development produces products that are more generic in an application. Healthcare organizations choose custom healthcare software development since they are unique, and each has its own set of requirements when it comes to serving clients.
Custom healthcare software development encompasses a wide range of operations designed to address a variety of organizational issues in the medical field and the crucial relationships between patients and caregivers. For instance, hospital experience, clinical services, insurance claims, and electronic health records, among other things. As a result, healthcare software development solutions can help you create an entire ecosystem within your organization, allowing you to provide more accurate and high-quality clinical services.
To be more exact, doctors can effortlessly track and monitor their patient's health state, plan appointments, receive information, manage their employees, and so on. Patients can also make appointments, speak with physicians, share their experiences, and obtain health advice. These are just a few of the advantages that software will provide to the health sector.
How can Custom Healthcare Software Development Company aid?
What offerings from the healthcare software development services bring in to address the many problems? The answer is that they can develop a collection of products and services that will make it much easier and more efficient to resolve the issues.
Healthcare software, for example, encompasses a wide range of technologies and software that can help with patient care and data administration. There are also healthcare apps, which are mobile applications that help people communicate their health status with professionals, track their health, and receive tips on how to improve their health. Custom healthcare software development, which is software or mobile apps built to address a specific requirement, is the next best option out there.
The following are some examples of healthcare software:
Quotation software for health insurance:

It's a sort of health insurance software that compiles all of the available insurance companies' estimates into a list that can be accessed quickly after entering basic details about a patient's group.

Hospital administration software:

This software assists in managing the hospital by collecting data from all hospital departments and managing patient data.

Verification software for health insurance:

This software allows users to verify the validity of the health insurance during or before a patient appointment.

CRM in healthcare:

It is possible to work more efficiently with CRM in healthcare. With the help of this software, it enables better contact management, more accurate performance reporting, and higher care quality.

Software for managing medical practices:

The software will bring together various data obtained throughout administrative processes. Scheduling patient appointments, billing procedures, and payment processing are examples of such processes.
Benefits of Custom Healthcare Software Development
If there weren't a multitude of significant benefits, custom healthcare software development would not have been so popular. Since this software has unique aims, custom development allows healthcare IT products to be extremely efficient. This will enable it to run more smoothly, making it more appealing to users.
Custom healthcare software development allows you to personalize virtually everything in any way you choose. Custom healthcare software development services can assist with questions about healthcare insurance that are subject to specialized medical insurance verification software and bring about a solution to any issue about optimal medical practice and payment administration.
The most significant drawback myth of custom healthcare software development is that it can only be used in the environment for which it was created. Please keep in mind that it can easily be customized in the future if further technological or legal needs arise. Custom software development allows you to avoid utilizing commercial off-the-shelf software. This means you're no longer relying on their licensing or pricing. Custom healthcare software can develop and change alongside the industry.
Getting started with Healthcare Software Development Solutions
You must be considering developing healthcare software in light of the promised improvements in healthcare technology. Here are some aspects to consider while creating a winning custom healthcare software.
Get a thorough examination of the healthcare software
You must be familiar with several sorts of healthcare software by now. You can begin by obtaining a comprehensive analysis of the software you want to develop. It will assist in comprehending the features and other development aspects such as development time and cost. Then, plot the facts and brainstorm with your team/partnering firm to gain a well-rounded perspective.
Advanced Technology will pave the path forward
Specialty technology has the potential to solve many of the healthcare industry's problems. However, to gain an advantage over your competitors, you must employ innovative IT solutions that are tailored to your business goals. AI, AR/VR, IoT, cloud computing, and blockchain technology are some of the advanced technologies that will continue to trend in 2022 and beyond. Despite the market's enormous changes, cutting-edge technologies can aid in the development of resilience and the creation of value for the customers.
Recognize the healthcare market
Understanding market need is generally a good idea. You must also research your target audience and be familiar with the various sorts of healthcare software. Then, you can check out your competitors to learn more about them and their pain areas and chances. You can't start designing software without first learning about your competitors and their strengths and limitations. A well-planned approach to application development is always beneficial.
Examine the impact of using multiple devices
It is possible to install healthcare software across multiple devices without difficulty. Who wouldn't want a software that runs well on a laptop, tablet, or smartphone? Users may require healthcare applications at any time, so it's a good idea to concentrate on device compatibility. When a software is simple to use, it becomes more desirable automatically.
Match development with your requirements and specifications
It is beneficial to consider increasing ROI from a business standpoint. It's vital to consider both successful installation and monetization options for your software. What choices do you have? Remember to collect and evaluate valuable data to determine what users desire. The information can assist you in gaining more subscribers. Users' viewpoints must be prioritized; otherwise, they will switch to another software/app, and your company will exit the market before establishing a solid first impression. Constantly looking at trending user demands and having defined corporate goals are both effective practices.
Maintain HIPAA compliance
Each country has its own set of medical regulations. These regulations have been defined and are based on a national standard. You must adhere to HIPAA regulations since any lapses could result in a life being lost, which is unacceptable to any healthcare business. The HIPAA security requirements aid in protecting digitally transferred health information's confidentiality. In addition, the HIPAA privacy rules help to keep medical records safe. Ensure that any custom healthcare software development company you work with is familiar with HIPAA regulations. Your partner can assist with HIPAA security and privacy laws compliance, making your application more trustworthy.
Work with a reputable software development firm
An expert partner can discuss new trends, goal alignment, scalability, and other issues. Look for a custom healthcare software development company that can supply all of the necessary support and services. They can help you bring your digital ideas to life. It is best to evaluate the company's background, perspective, agency's talents, and approach while shortlisting. By creating specialized software that's a perfect fit for your business needs, partnering can help you get a competitive advantage.
Wrapping up
During a global pandemic, one cannot afford to be behind. It's time to break new ground and work with modern technologies in novel ways to deliver cost-effective solutions. Patients demand more control over their health at an affordable price. And what the crowd wants is personalized service. Now is the right time. However, it will ultimately be up to you to alter patient care.