Category: custom software,software development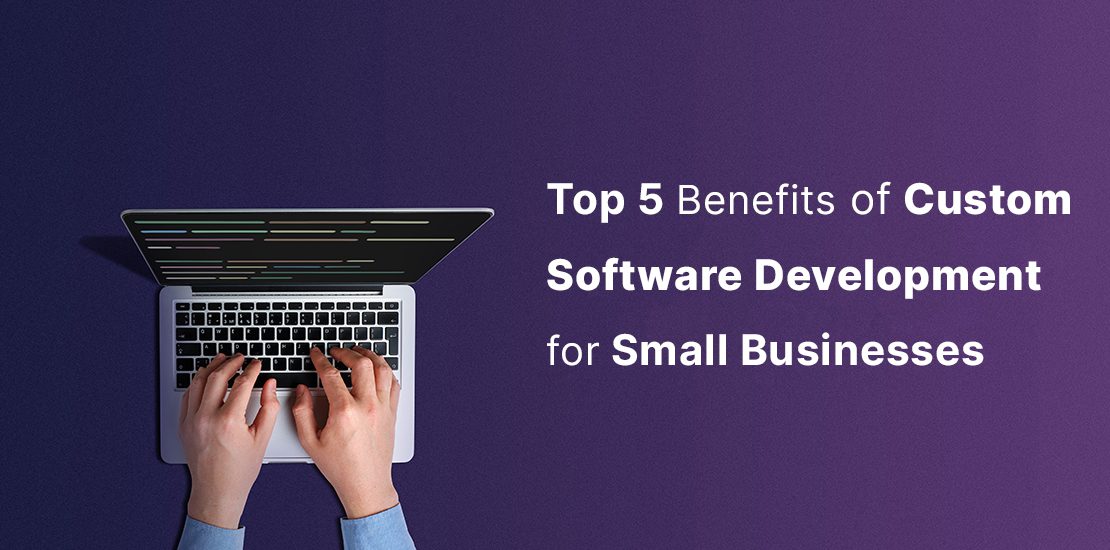 What is this article about? 
Technology has long been helping businesses, playing a significant role in improving productivity, enhancing efficiency and revenue. In order to avoid falling behind in this rapidly evolving technological age, tech companies are making every effort to adapt. Smaller businesses trying to make ends meet are compelled to leave their mark on this expansive technological landscape. And to these struggling small enterprises, custom software development has come as the savior. This article explores what custom software development is, the advantages of custom software for small businesses, the top 5 benefits of custom software development for small business and the things to consider when choosing a custom software development partner.
Make it work, make it right, make it fast
                                                                                                         – Kent Beck
With businesses stepping into more complex and diverse technological requirements, off-the-shelf software applications are becoming obsolete, inefficient, and unsuitable to the ever-increasing technical demands of businesses. While many established companies continue to rely on traditional software, the vast majority of small enterprises prefer custom software development. 
Its quite understandable why off-the-shelf solutions are appealing for a range of business needs, but they frequently fail to address the concerns of small organizations. The major goal in businesses is to get things done efficiently. Most of the time organizations invest in buying multiple software and products to keep track of their business performance. The problem with having all these multiple software is that they are all distinct, which makes it more difficult to get a full grasp of the overall performance of the organization. And the solution to this problem is custom software development. 
Now, more than ever, organizations are beginning to see the significance of custom software for their small businesses and are employing it to boost productivity, streamline operations, and meet their business goals.
Let's explore how custom software can help your small business. First, let's start by defining custom software development.
What is custom software development?
Custom software development is the process of developing, designing, building, deploying and maintaining software for a specific function or specific set of functionalities that best suits one's business requirements. 
For instance, you need an application that meets the specific needs of the bank and its customers; it cannot be used for retail or manufacturing businesses. And therein comes custom software development. In essence, custom software caters to the organization's general and specific requirements. It can precisely address the organization's needs and provide in-depth solutions to their challenges and special requirements. 
Essentially, it is identical to any other type of software development, except that it is specifically tailored to meet the requirements of the client. Hence the name bespoke software. On most occasions, custom software development is done by a third-party development team or in some cases by in-house developers. Typically, the development process is iterative, with requirements-driven modifications occurring often.
Why is custom software development important for small businesses?
For small businesses and startups who are taking their baby steps in the business and who want to attract as many customers as possible for their services and solutions, there is no better option than custom software development. 
Let's see the top 5 benefits you can reap from custom software development.
5 ways custom software development can help your small business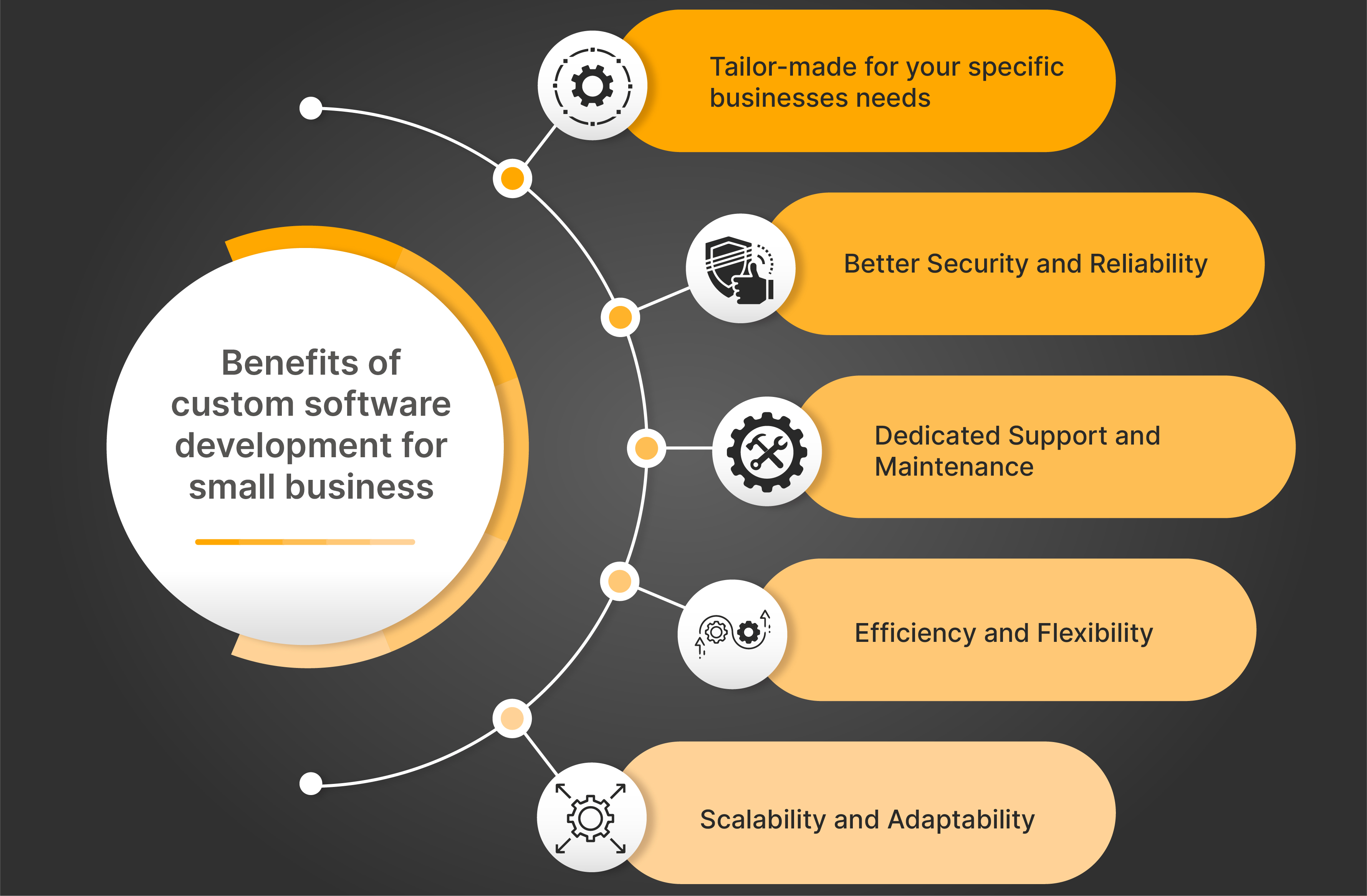 Tailor-made for your specific business needs 
Small businesses benefit greatly from custom software solutions since they are tailored to match the specific goals and requirements of the company. If you are just starting off and intend to create unique and new solutions, the sky is the limit with custom software. Developers will collaborate closely with you to produce bespoke solutions that cater to your specific needs and innovative ideas. The programs will streamline your company procedures, optimize your operations, and increase your business's efficiency so that it functions effectively. Thus, providing you with the much-needed peace of mind.
Better Security and Reliability 
Since there are plenty of businesses using off-the-shelf software, there lies the greater risk of getting attacked by hackers. However, custom software, on the other hand, provides you with data security and ensures the privacy of your operations. Using third-party solutions may be a faster option to save time and effort, but your business is at the whims and mercy of the service providers. Having your own custom software solution gives you greater control over these operations and can make sure it is functioning and compliant with the most recent security protocols.
Dedicated Support and Maintenance
When it comes to custom software applications, you can relax knowing that there is always a devoted team working round the clock to fix any problems that may crop up. Providing you with peace of mind in the event that an issue develops in relation to the deployment of the program or any other part of it.  As a specialized team is always on their toes and on the lookout in order to provide you with the finest possible solutions. Your selected software development company will manage everything, from the application deployment to all the way to implementation, fulfilling all your desired software needs.
Efficiency and Flexibility
With custom software development, you have the freedom to decide which features should be added to your application and which ones should be enhanced. Custom software enables your organization to manage newer requirements with greater efficiency and flexibility, based on the needs of the business or the evolution of technologies and trends. With the automation of repetitive tasks, custom software makes way for greater collaboration, hence increasing the efficiency of your company and teams.
Scalability and Adaptability
A company's long-term health and performance are dependent on its capacity to grow and adapt to changes in the marketplace. As a result, custom software development benefits small businesses on a fundamental level. Custom software allows you to expand indefinitely. Even if your needs grow, your technical capabilities change, the number of users increases, and so on, custom software can grow with your business, adapt to new demands, and make sure your application doesn't crash.
And perhaps most importantly, it is yours forever. Your company gets the total ownership of all the success and innovation behind that custom software application. You get to pick what to add, adjust, and so on, based on your efficiency, client response, business goals, and so on. You'll have a software that is completely and exclusively yours.
Now let's explore the steps you should take when selecting a custom software development company for your small business.
How to find the right software partner for your business?
When you're a small business striving to grow, finding the perfect custom software development partner might be tough. Here are a few things to think about when choosing a custom software development company
You need a partner with experience and knowledge who knows the expectations and requirements of your business depending on your niche, target audience, platform, and other factors and provide expert guidance on what works and what does not.
Next on your checklist should be assessing the portfolio of the software development company. You must browse their website, review their projects and case studies, etc., to gain a thorough grasp of their line and work quality. Going through the company portfolio, you will find out a lot about how the company operates, their approach, the types of projects they have completed, technologies they work with etc.
The next important thing is reviews. Never overlook reviews when looking for a custom software development company. Explore the company on several platforms, such as Clutch and Good Firms, to learn about the feedback it receives from customers.
There are plenty of tools, frameworks, and libraries available to develop any application. Ensure that your prospective partner has expertise in the technologies that you are looking for. Do not choose a company based solely on the size of their tech stack; instead, evaluate whether they are using the most recent frameworks, languages, and libraries, as well as their certifications and specializations.
Remember that there is custom software of all scales and sizes for specific platforms and markets. It is always crucial that you form a budget plan before approaching a company. Make a detailed list of features and requirements, as well as the budget you are ready to spend, in order to successfully communicate with the organization and team about your intended budget range. Make sure that the company falls in line with your budget plans in advance to avoid confusion at the beginning or over the course of the project.
That's all, viola! 
Looking for the best custom software development company, well don't look further, TA is one of the best custom software development companies, offering efficient and affordable custom software development services to small, medium to Fortune 500 companies. With over fifteen proven years of experience in the development of unique and engaging custom software solutions. We can help you build the custom software of your dreams!
Get in touch with us to get started on your custom software development adventure.