Category: Business plans,IoT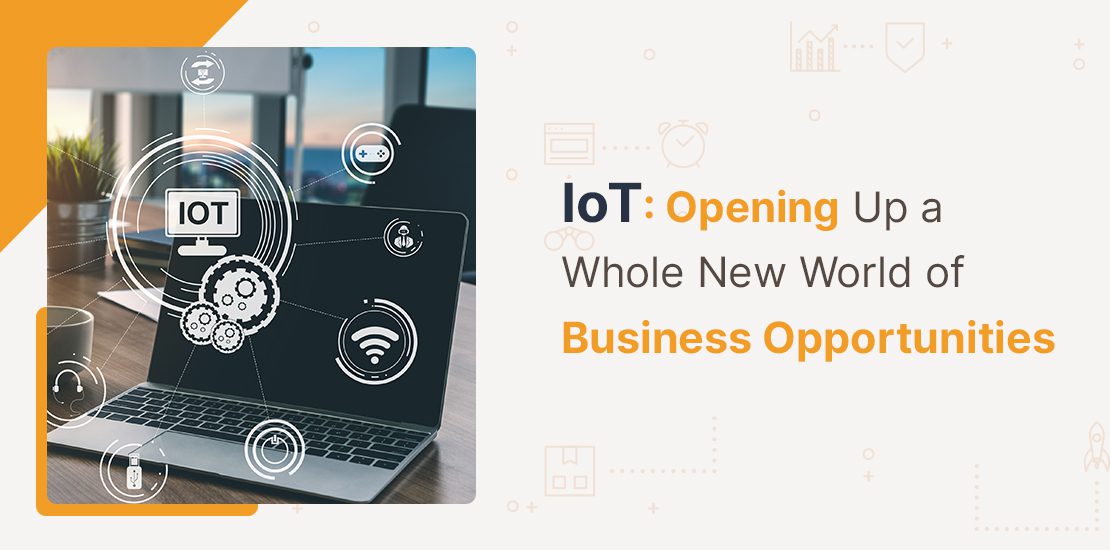 The Internet of Things (IoT) is a cutting-edge technology that allows smart gadgets to communicate with one another and with cloud servers. It improves our lives and makes the completion of numerous everyday duties more convenient and efficient. More devices than individuals were connected to the Internet in 2021, widening the difference. According to Statista, the global IoT industry revenue will exceed one trillion dollars by 2030. As a result, it's easy to see how enormous the IoT business opportunities are.
IoT has grown in popularity in recent years as connected devices, and smart home and office gadgets have dominated the market. The technology's other major utility is the ability to transfer data from one device to another without requiring special human-to-computer interactions. The numerous advantages of this technology have resulted in its rapid spread on the market.
The worldwide enterprise IoT project share graphs below will show how quickly the IoT sector is growing.
What impact does IoT have on Businesses?
IoT has a significant impact across several businesses. The adoption of IoT has exploded, from tiny startups with simple IoT business concepts to giant corporations with more sophisticated and complex solutions. IoT transforms the whole marketplace for organizations across all industries by delivering information and services at never-before-seen speeds.
Consistent progress
The choice of the century is digitization. With the extensive development and rise of global digitization paired with IoT technology, many niches are being addressed and making progress. The introduction of additional sensors improved computational power, and reliable connectivity has had an influence, with analysts projecting a 13.6 percent increase in this technology's growth by 2022.
Applications using real-time analytics and AI have shifted activity from local devices to cloud and edge computing solutions, resulting in an increase in business opportunities in IoT. In addition, technologies like Augmented Reality and Virtual Reality and the optimum utilization of 5G connections could be used to drive more traffic to IoT.
Advancements in Business
The most critical need or path for any organization is to create a great user experience. As a result, companies that have utilized IoT technology have made significant gains over their competition. Many domains, such as Industry 4.0, smart cities and homes, connected automobiles, and e-health, have advanced dramatically due to IoT integration. As a result of the increased adoption of IoT technology, IoT business opportunities are surging above the norm.
Numerous Applications
IoT is already being used across various frequently utilized applications in organizations, from small-size IoT idea businesses to big-scale corporations. IoT has achieved widespread recognition due to substantial breakthroughs in Industry 4.0, connected cars, and other areas. This technology enhances the functionality and product capabilities of these sectors. Another advantage is that IoT allows B2B markets to use Industry 4.0 technology to link directly to their products and track them in real-time, allowing for predictive maintenance and increased efficiency and uptime.
Why IoT and why are there so many Business Opportunities?
When people conceive of the IoT, they often think of it as a threat to humanity. True, the IoT could relieve people of many mechanical jobs. However, the introduction also opens up new possibilities in other fields. The number of opportunities generated is frequently more than the amount they projected to lose. Advancements in technology have always produced such upheavals in the workforce, but they have always come around to provide new opportunities.
IoT business opportunities are limitless as this technology has become more prevalent in everyday life. The IoT era began when more devices were linked to the Internet than people. As a result, it connects a wide range of technology, from banking terminals to smart home systems. Whether you realize it or not, most of the world's population is being drawn into the IoT environment, regardless of our personal preferences.
The statistical graph below will demonstrate the business opportunities in IoT:
(The global Internet of Things market was estimated at $150 billion. At the same time, according to the most conservative estimates, by the end of 2025, the market will exceed $1.5 trillion.)
This is only the tip of the iceberg in terms of visualization. Smart city initiatives in the United States and Europe will open up a massive global market. Over 20% of all significant IoT initiatives were initiated in this area in 2019. That means there will be a high demand for tech solutions related to city life automation in the following years. These figures might not have made you grasp the scope of IoT business opportunities, but keep in mind that the 2000s were a time when only a select few boarded the web and mobile development ship.
Security in IoT
Before we get into the different business opportunities in IoT, let's talk about one of the most crucial factors to consider before diving into this sector: security. Most IoT company ideas revolve around data processing, and this isn't just a fad. The number of web-connected gadgets is rapidly increasing, resulting in a surge in data. As a result, automated data processing has become a great solution.
This is similar to a coin in that it has two sides. The processing of these data could assist businesses in maintaining product quality and providing better service to clients with fewer employees. But, at the same time, having access to personal and company data exposes you to cyber assaults.
The IoT market is one of the most competitive markets in existence. As a result, new software must be introduced into the market as soon as possible. This procedure must not jeopardize the service's quality since it may backfire. However, these frequent releases may exhaust the developers. As a result, the developers shorten the timeframe by jeopardizing the protection of sensitive data.
International privacy policy guidelines and data encryption technology were developed to address the issue. But, on the other hand, cybercriminals are continuing to advance, turning IoT-connected medical gadgets, smartphone-paired toys, multimedia systems, automobiles, and smart homes into crime instruments. So, if you want to be in the market for a long time, a solid product is the way to go.
IoT Business Opportunities
The number of business opportunities in IoT is enormous at this time. As a result, we only showcase a few of them here.
1.) Manufacturing 
The management may use IoT to combine operational technology and information technology to automate numerous business activities, effectively track product quality, and manage various tasks from the comfort of their office. For example, companies can discover the significant causes of quality concerns and production delays by using smart sensors to track the production and manufacturing process. Another manufacturing innovation known as smart packaging extends shelf life, monitors freshness, displays quality information, and improves product and customer safety. To meet the demands of users all across the world, manufacturers must improve their adaptability, service speed, and transparency. The use of multiple databases and the use of IoT development are required to optimize the production plan and customer service cycle. As a result, manufacturing opportunities for IoT are abundant.
2.) Healthcare
As per the reports and data, the worldwide IoT in the Healthcare sector is expected to increase by 19.8% from USD 60.83 Billion in 2019 to USD 260.75 Billion in 2027. According to Statista, global healthcare IoT device installations were 46 million in 2015 and are expected to reach 161 million in 2020.
The previous illustration should have given you a sense of IoT's significance in the healthcare industry. The bulk of equipment is designed for remote control and operations. Doctors can use this to keep track of their patient's health, whether they are present or not, and much more. Another important application of IoT is wrapped around your hand. Yes, such smartwatches are popular. It becomes highly effective and accessible to look after lifestyle diseases using various wearables, sensors, data analytics, and mobile devices backed up by IoT.
3.) IIoT 
Is there truly a business opportunity in industrial IoT? Yes, it is the most critical industry. The primary objective is to use sensors and automation to improve the efficiency of their business operations. As a result, it helps make faster and better decisions. The IIoT allows firms to better understand their business processes by collecting detailed data in real-time, and by analyzing data acquired from sensors, they may improve their operations and generate new revenue streams. IIoT is currently widely used in areas such as retail, manufacturing, utilities, and transportation.
4.) Smart Cities
Smart Cities are a broad arena where you can swiftly implement whatever you want. The most significant part is that the field is nearly completely untapped, allowing you to be a pioneer. Smart bus stops, smart traffic controls, and solar roads are just a few examples of how IoT technology might be used in this industry. When it comes to smart cities, the possibilities for IoT adoption are unlimited. So don't let this chance pass you by.
5.) Retail
The IoT has a massive impact on the retail business and provides a wide range of benefits, including improved customer experience, enhanced supply chain management, and better inventory management, among others. The key to unlocking that revenue stream in retail is customer retention and acquisition. As a result, making clients feel at ease, well-cared for, and so on are critical considerations. Personalized discounts, which would provide all consumers with discounts while selecting those regular costumes and presenting them with special discounts, is an IoT business idea that helps them feel taken care of.
So, what's the ultimate statement?
There is no doubt that there are economic prospects in the Internet of Things; this is the truth. The IoT transforms businesses and improves people's lives all over the world. Our environment and manner of life are continually being shaped by it. As a result, it is critical to recognize IoT concepts' benefits and develop the finest IoT business opportunity.
The United States and Europe have already entered this reality. In addition, the IoT business opportunity in India is rapidly expanding. As a result, don't be afraid to take the necessary steps.