Category: ar vr,Economics,Web Applications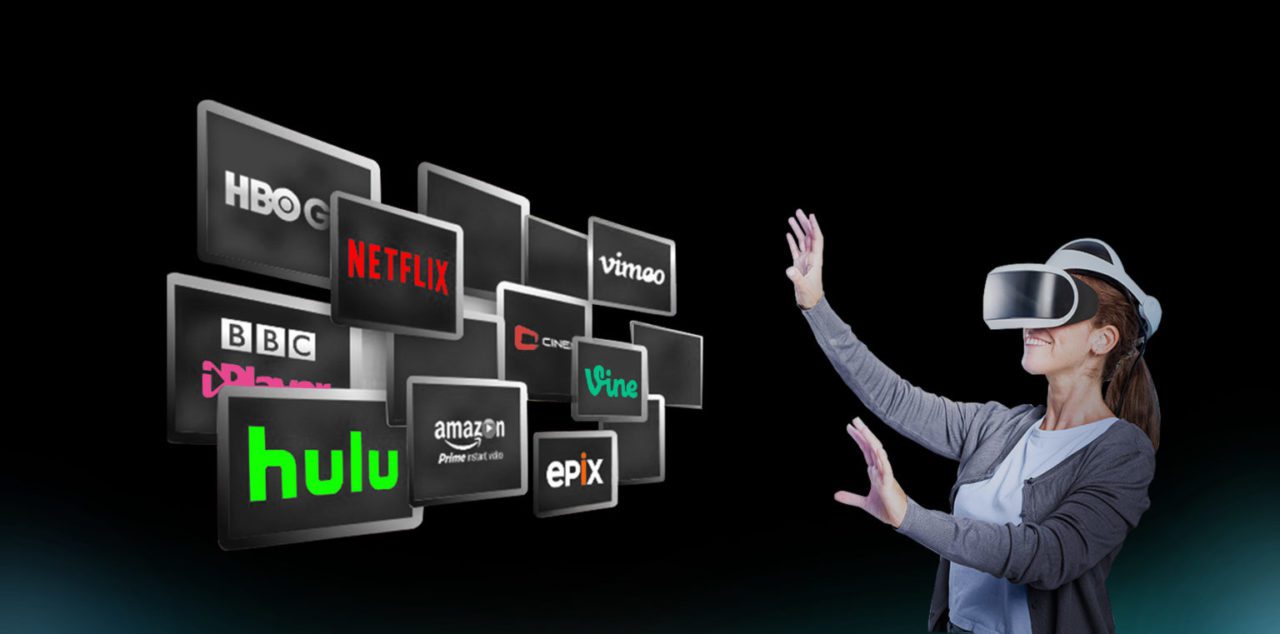 Synopsis:
The OTT market is whipping up a storm globally. The unprecedented COVID-19 outbreak has changed the way audiences consume media and spurred the adoption of OTTs. The OTT sector is expected to witness innovative and advanced transformation in the post-pandemic world exploring the next gen of AR and VR.  As everyone is adapting to new viewing habits and platforms, this article unfolds the concept of OTT, its benefits and advantages, the reasons for the shift, the latest AR/VR disruptions in OTT, and more.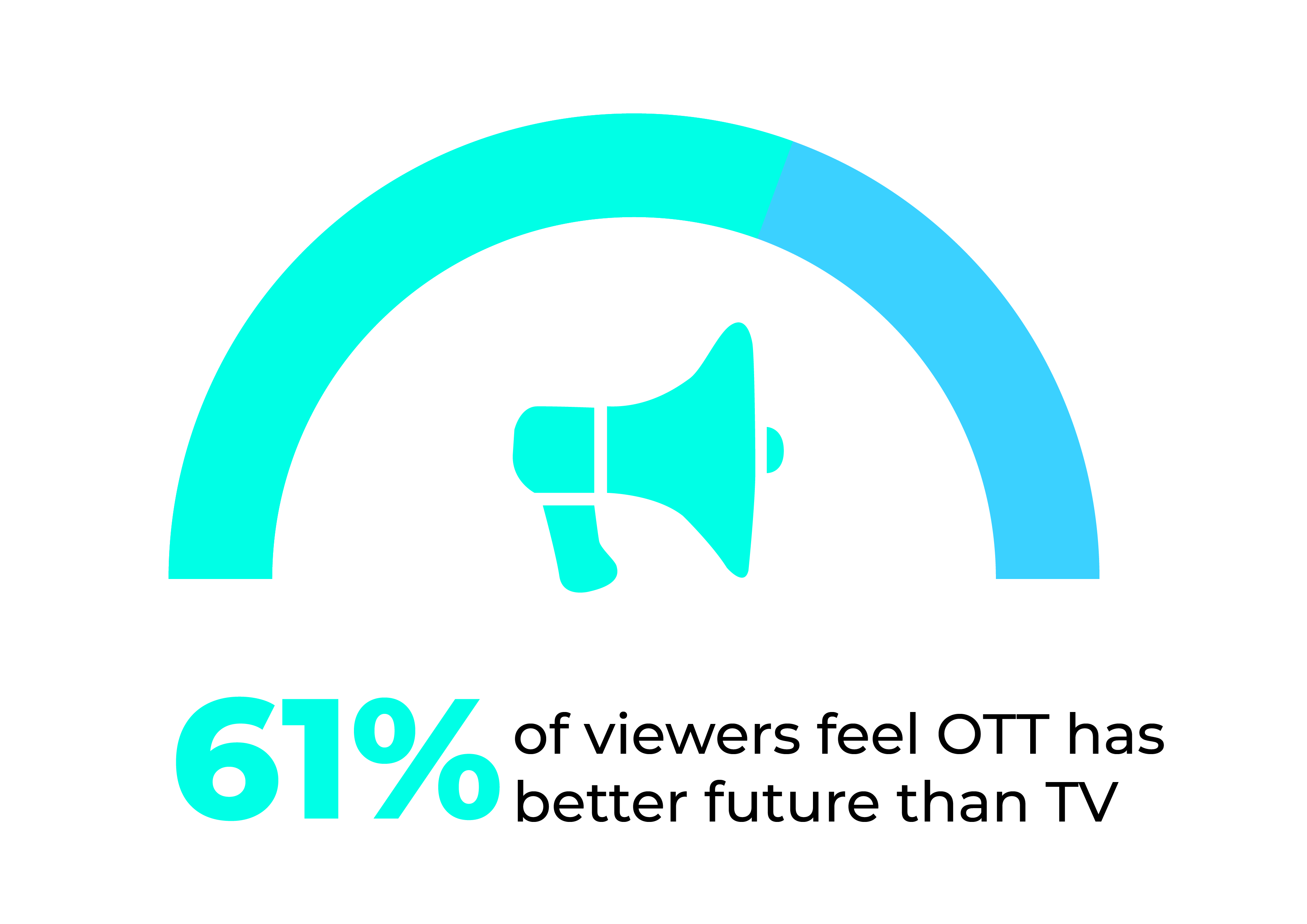 On the Internet, you get continuous innovation, so every year the streams are a little better.
                                                                                                                                                              -Reed Hastings, Netflix
Over-the-top (OTT) is going over-the-top of the existing media distribution system making astronomical leaps in the media landscape, providing absolute freedom to the consumers on what to watch, where to watch, and when to watch. Bypassing the giant traditional cable, satellite, and broadcast television, OTT is making viewers cut the cord with the traditional TV with more shows, more content, more availability, accessibility, with a subscription much lower than the hefty cable bill.
The world no longer consumes cable or the traditional TV, now we are all streaming content across our favorite handheld devices or watching it on our computers or televisions with the added bonus of watching it whenever we want. OTT has now become the most popular way to consume such content.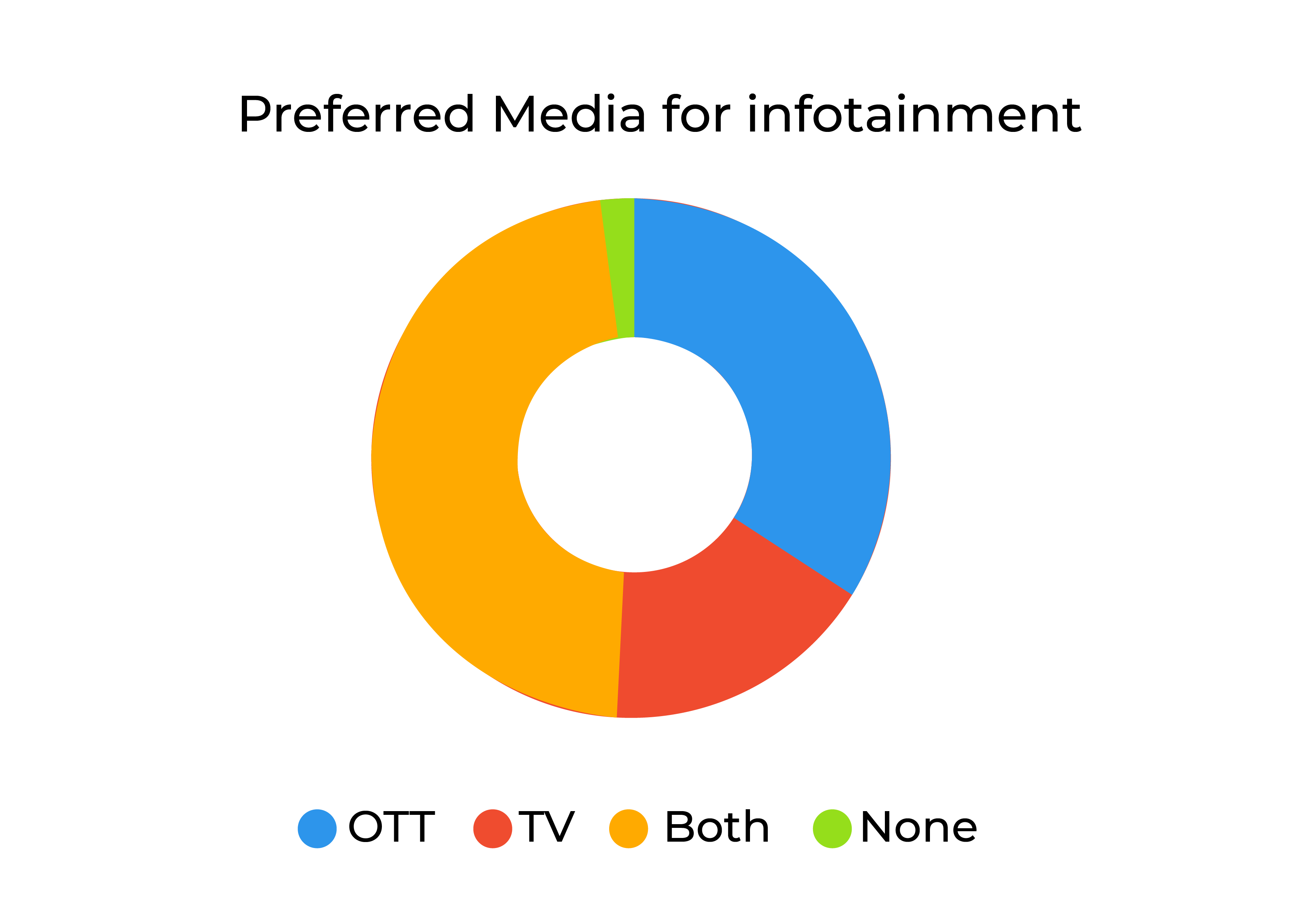 What is OTT?
OTT, the acronym for Over-the-top services, refers to any type of video or streaming media delivered directly to digital users that provides the viewer access to mobile or TV shows through the internet, without the requirement of cable or satellite television subscription. Platforms like Netflix, Amazon Prime, YouTube, Facebook, Instagram, Hulu, etc. are popular streaming platforms. The content in these platforms ranges from music or yoga videos to your favorite movies and series delivered directly over the internet to connected devices such as PCs, tablets, smartphones, consoles, etc. 
OTT is a broad term, there are different forms of content that one can consume via OTT platforms, such as:
Video content

involves entertainment, lifestyle, education, and several other contents streamed by popular mediums such as Netflix, Amazon, Hulu, etc.

Voice services

include services like WhatsApp, Skype, or other VoIP services delivered over the internet. 

Messaging services

like WhatsApp, Facebook Messenger, etc. 

Audio applications

such as music streaming services like Spotify, iTunes, SoundCloud. 
Advantages of OTT platforms
The advantage of the convenience that OTT platforms offer is hard to ignore. Now, you don't have to sift through hundreds of channels from your cable. You can directly download and view the content of your choice. To make it more simple, OTT uses the internet connection to play/stream movies or tv shows. OTT enables the delivery of content all over the internet ad-free. You need to just pay the internet charges to watch Netflix or Amazon without having to sit through hundreds of channels from television enduring the ads. 
The rising cable bills are in contrast to the more personalized, affordable, easily accessible, relatively cheaper, and entertaining on-demand OTT  services, gave the viewers control over the content, brand, etc., opening up the possibility of ad-free content by enabling subscription on-demand services (SVOD), one-time purchases (TVOD). More than ever, OTT enables the customers to watch exactly what they want and pay only for the content and services they want, with the flexibility to adjust their models. Unlike the traditional cable or IPTV, OTT platforms enable you to subscribe to as many platforms as possible. You don't need to limit your subscription to one service provider alone. The affordable subscriptions, ad-free, enormous library of commercial-free shows, and other added benefits such as Amazon offering two-day shipping to its prime users and other benefits are wooing audiences across the globe.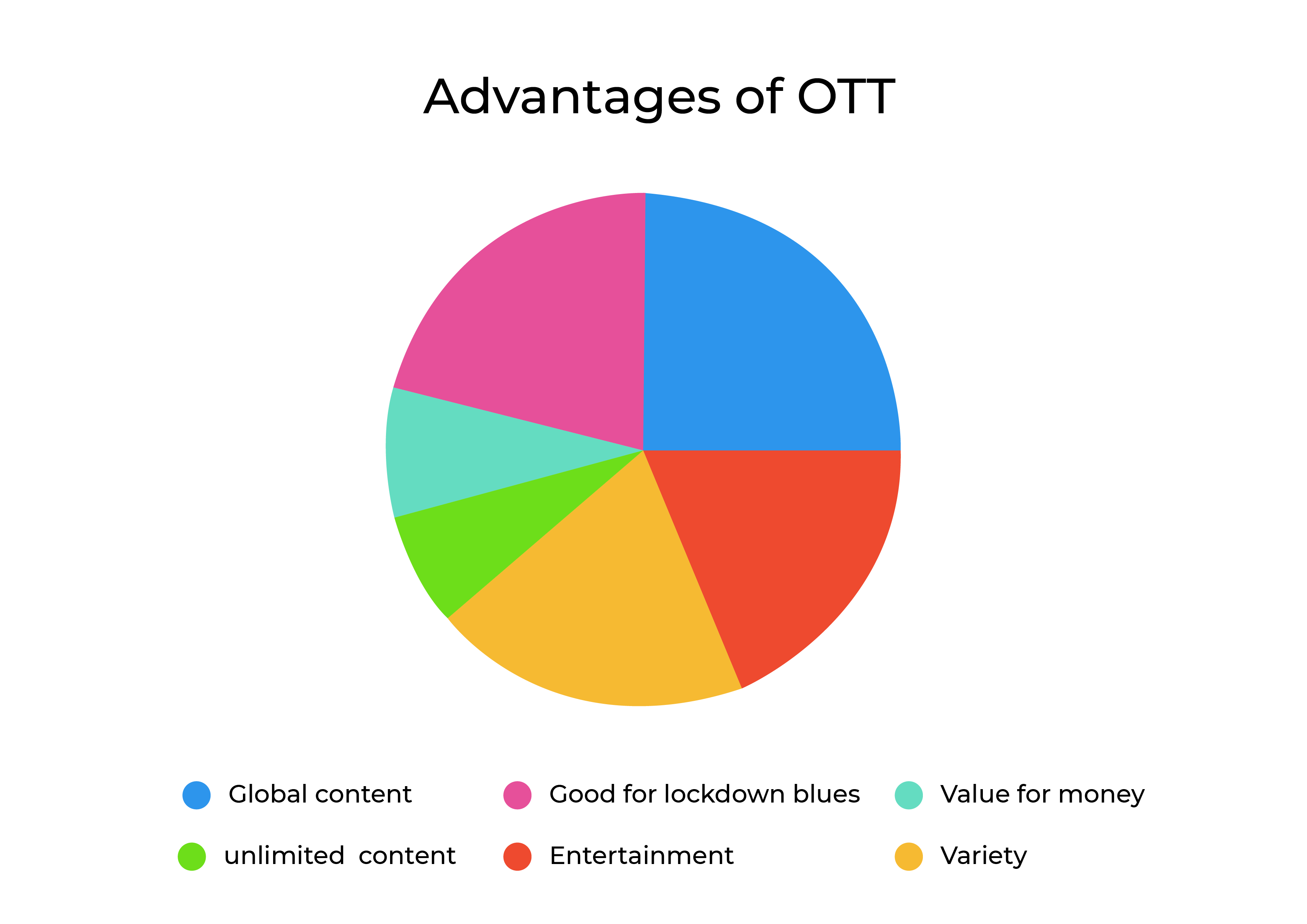 For a successful viewing experience over the internet, you at least should have a 25mbps bandwidth connection. A 25mbps will only support one OTT stream and one or two smartphones, one a good connectivity day. The lowest speed required is 25mbps, with an OTT stream, you get to watch your favorite shows ad-free saving viewers from interruptions and time wasted watching commercials. According to Cordcutting Netflix saved each of its subscribers from 160 hours of commercials on average in 2017.
Global OTT users in 2020 were approximately 2.13 billion people using OTT video worldwide and it is set to increase as much as roughly 2.72 billion globally by 2025. The trend of OTT is not a new phenomenon, it initially started in 2007 but accelerated in 2012 when platforms like Netflix, Hulu, HBO Now, Amazon Prime video began delivering their content directly to the audience.
Devices to access OTT
The advent of affordable android based smartphones democratized the rise of digital viewers. Smartphones dominated the overall OTT market share in 2019 and are expected to remain dominant for the future. Although desktop computers, smartphones, and tablets drive the majority of viewers' online activity, there are many other streaming devices that will allow users to access the OTT content. There are multiple ways you can access OTT, on smart tv, most smart tv's these days come with Netflix, Hulu, Prime app apps pre-installed, add-on devices for your current tv, Roku, Chromecast stick, Amazon Firestick allow users to plug the devices into the TV's HDMI port and access the app on screen, then you can log in your subscriptions and access your content, you can pull up the provider's website on your laptop, computer, tablet, smartphone and watch your shows directly on that device. Most OTT providers have their own app, website, or page where the users can log in to access the content available with a subscription.  
The major players in the global OTT streaming market are Facebook, Netflix, Amazon,  Microsoft, Google, Apple, Hulu, Tencent, Rakuten, YouTube, Roku, Indieflix, Vudu, Kakapo, Home Box Office (HBO), Telstra, Alphabet Inc, the Walt Disney co. The countries covered in the global OTT streaming market are Australia, Brazil, China, France, Germany, India, Indonesia, Japan, Russia, South Korea, UK, USA. Netflix had 192.95 million paid subscribers worldwide as of the second quarter of 2020. And there are about 785 million users that subscribe to an OTT provider (Netflix, Hulu, Amazon Prime, or others worldwide). The revenue in the OTT video segment is projected to reach 1,039.03 billion by 2027, growing at a CAGR of 29.4% from 2020 to 2027.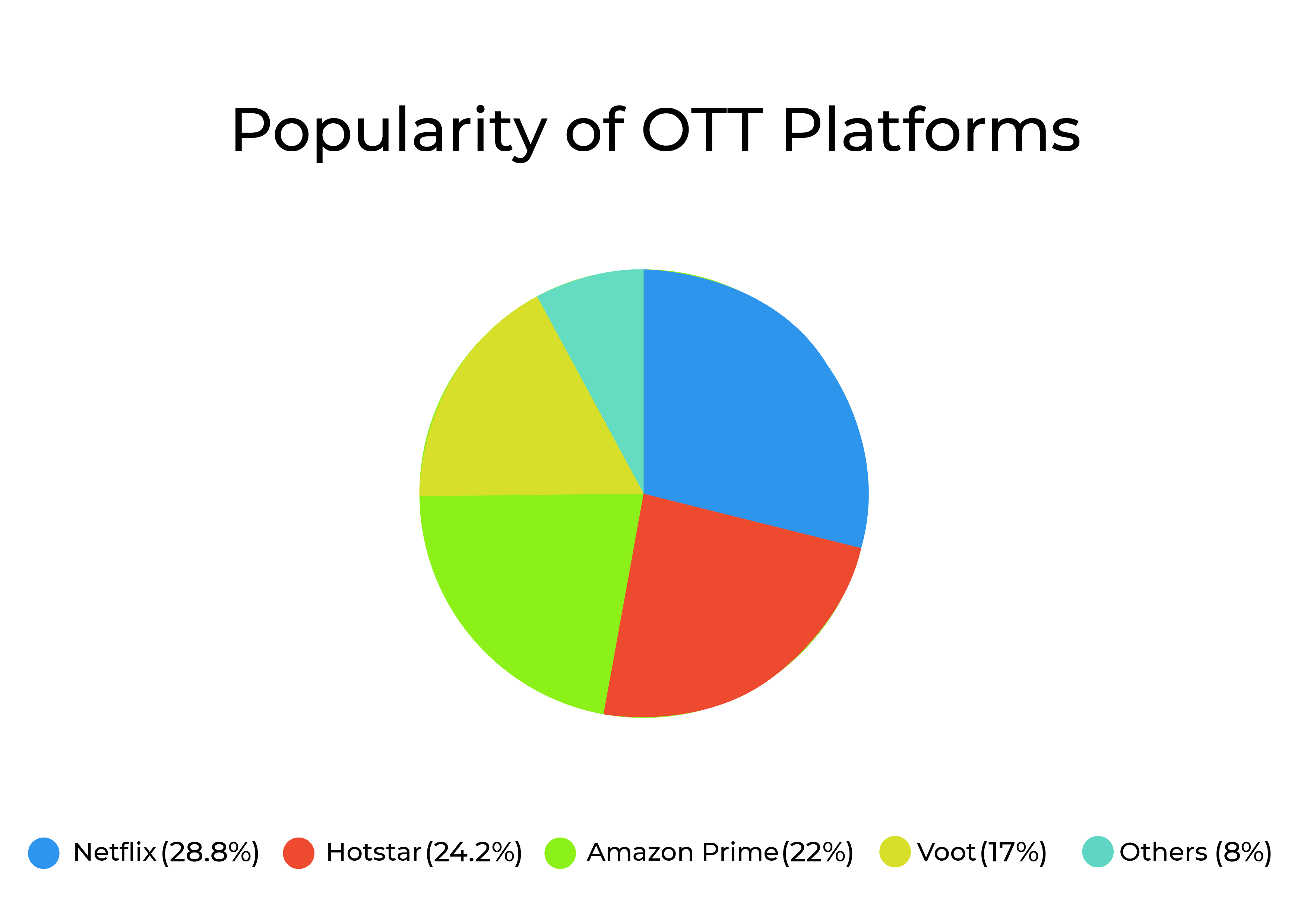 The easy availability of the internet insinuated the speedy growth of digital platforms that opened up to customers to more personalized content experience anytime anywhere. The last few years witnessed a new trend of digital consumption and the trend escalated during the pandemic where there was a ginormous 200% rise in the time sprint on digital platforms. According to a report, there has been a 115% increase in OTT streaming to TVs between 2020-21.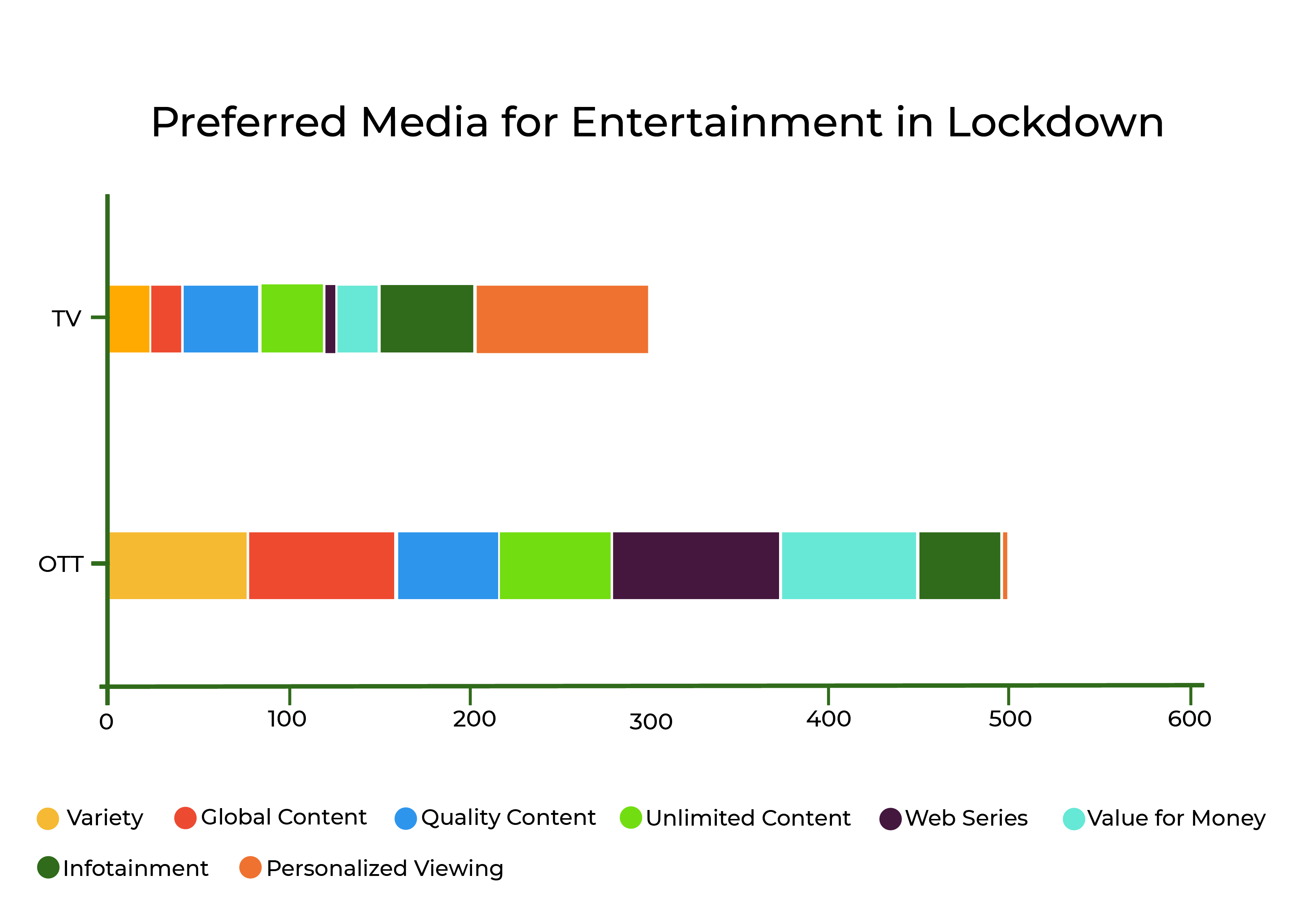 The widespread pandemic led to restrictive containment measures involving social distancing, lockdowns, and the new normal contributed to the growing popularity of the OTT media services. With the mass disruption caused by the pandemic and with the world oscillating between lockdowns and new normal, a whopping 38 hours of content consumed each month, we're spending nearly a full work week watching videos in mobile apps. On the basis of the primary consumer survey conducted across Delhi NCR on the impact of COVID and the rise of OTT platforms, it's observed that: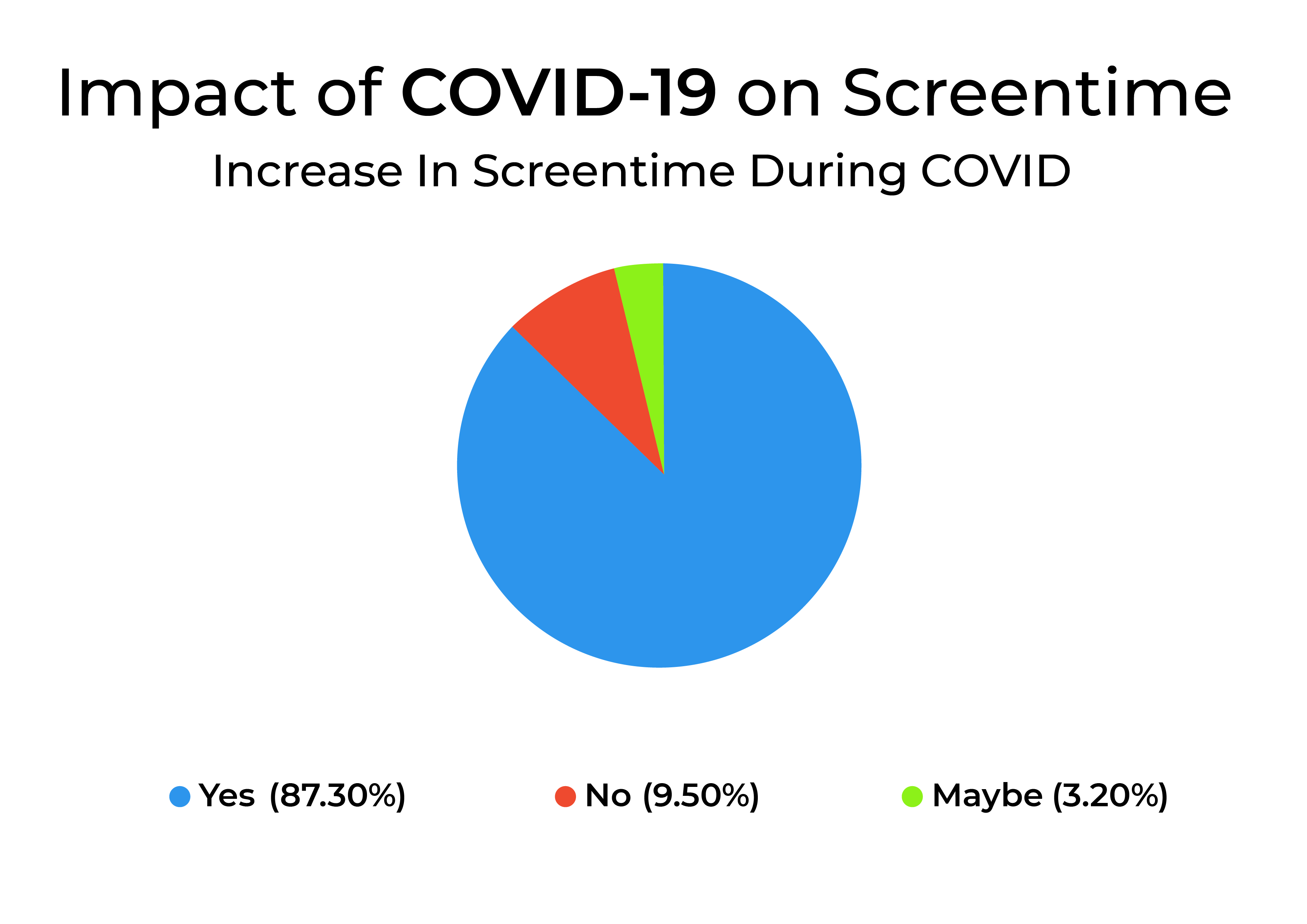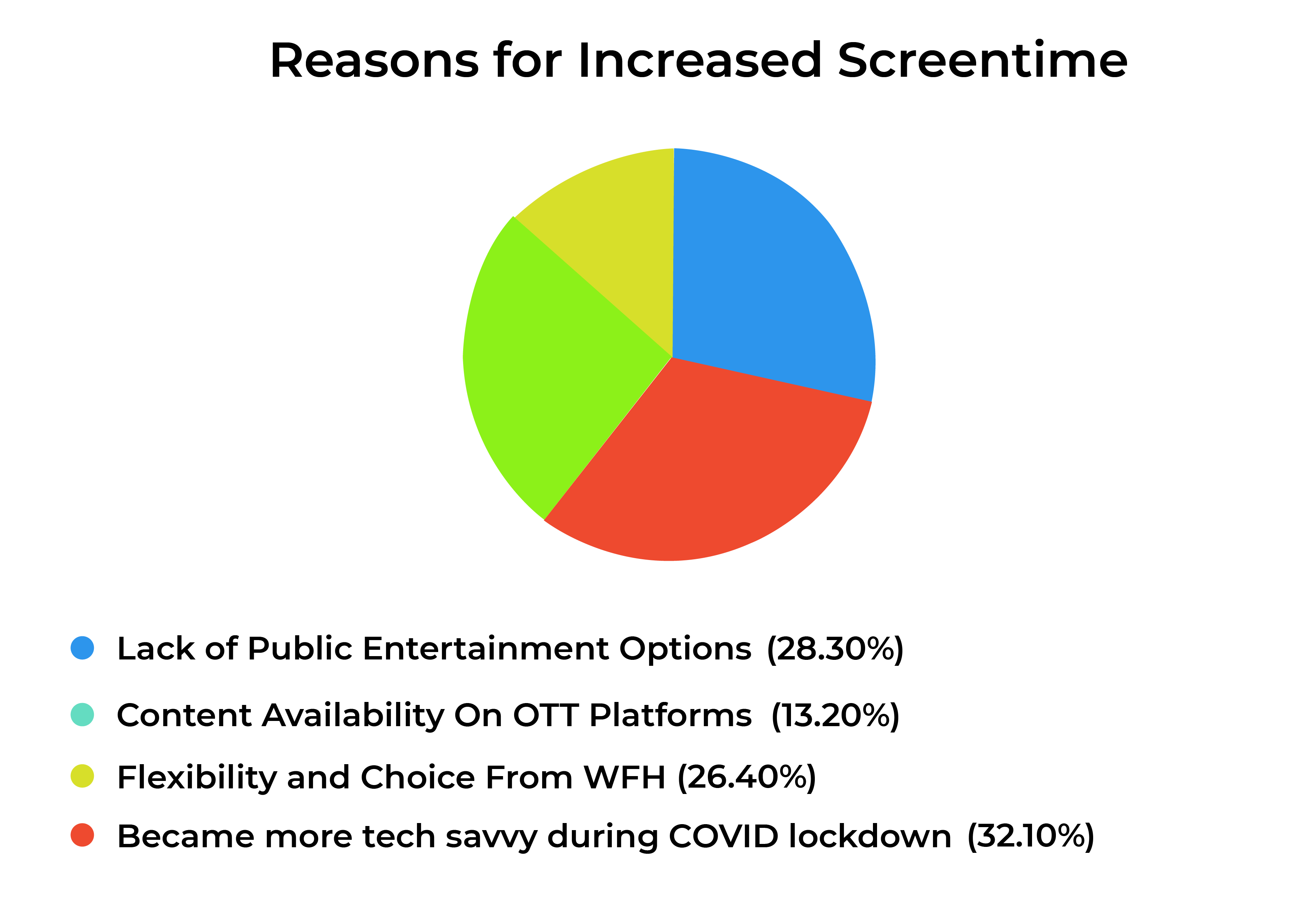 The growth is mainly due to companies resuming their operations and adapting to the new normal while recovering from the COVID-19 impact. And the growing realization among the customers for new and original content has pushed the $85 billion OTT market in 2019, and is expected to surpass $194 billion by 2025.
Technology of Augmented and Virtual Reality for OTT Streaming Services
The changing paradigms of content consumption have prompted major platforms to explore new mediums for engagement and interaction. Content distributors are pushing experimental content distribution with Augmented and Virtual Reality. Imagine watching Matrix, and engaging in the storyline or even making decisions whether to take the blue pill or red pill and change the entire plot of the movie. Just think how exceptional it would be to get into the world of Die Hard and  help out McClaine in defeating international villains. It's all possible with AR/VR which enables the 360° videos, 4 times the size of normal videos to better viewer engagement. 
Digital distribution with the advances of AR/VR technology will forever change the future of broadcasting sports and entertainment. According to a recent survey, 63% of sports enthusiasts were willing to spend an OTT subscription to follow their sporting interests. Big sporting events like NBA, NFL, etc., are reinventing their live streaming with AR VR development services to reach more diverse audiences. The AR/VR OTT disruption calls for engaging, quality pieces of content that can give the viewers exclusive behind-the-scenes access to their favorite teams and players. According to reports, the AR/VR will only continue to grow exponentially and dominate the OTT ecosystem with increased mobile broadband, stable and fast internet. Research indicates that revenue generated by the virtual reality industry will top $20 billion by 2020, while the Augmented Reality market is pegged to hit $61 billion in 2023. VR/AR can curate the content library and deliver experiences tailored to the end user's personal interest and choice. 
The advent of 5G will enable the seamless integration of OTT with AR/VR immersive technology. The super fast download speeds, reliable connection, and low latency of 5G will revolutionize the AR/VR-OTT adoption for viewers around the world. Platforms like Amazon Web Services and Verizon have already started exploring the possibility of live streaming NFL games using 5G, which is now installed in 13 NFL stadiums. According to a survey conducted by IBM, 45% of viewers were excited about the VR entertainment options when it comes to 5G applications. The same survey also found that 50% of consumers are enthusiastic about AR in movies and series and its potential to deliver additional content. The excitement around 5G for viewers applies to streaming on mobile too. 58% of consumers are excited about the potential to view UHD video (4K and 8K) on mobile devices using 5G networks. Whether you want to live stream your favorite sport, or get immersed in your favorite movies or shows, VR/AR streaming will sweep you off your feet with 5G connectivity.
The global OTT market valued a little over 85 billion in 2019, is expected to surpass 194 billion by 2025.  Gone are the days when families would sit around Television and fight for the screen time of their favorite shows and movies. The growing internet penetration and availability, encouraged the rapid growth of OTT streaming over traditional broadcasting. And this growing need for content took off when the pandemic shut our world and increased the hours we spend browsing movies and TV shows.
OTT created a new niche for diverse, original and compelling content luring in viewers of different tastes and politics.  Also, most viewers didn't just stream to OTT platforms due to the lack of outdoor entertainment or the pandemic but the quality content was also the catch with the great couch viewing. There have never been more streaming options and as the world is beginning to reopen from the COVID-19 lockdowns, the demand for engaging content is pushing companies to explore and consider different ways to market and deliver content to consumers. With content producers coming up with more ubiquitous and personalized content, the OTT markets are expected to grow rapidly drawing more audiences.  The promise of 5G and the power of AR/VR immersive disruption will undoubtedly raise OTT media to new heights.
Bravo! You have reached the end of this article. Thank you for staying attentive.