Category: ar vr,Economics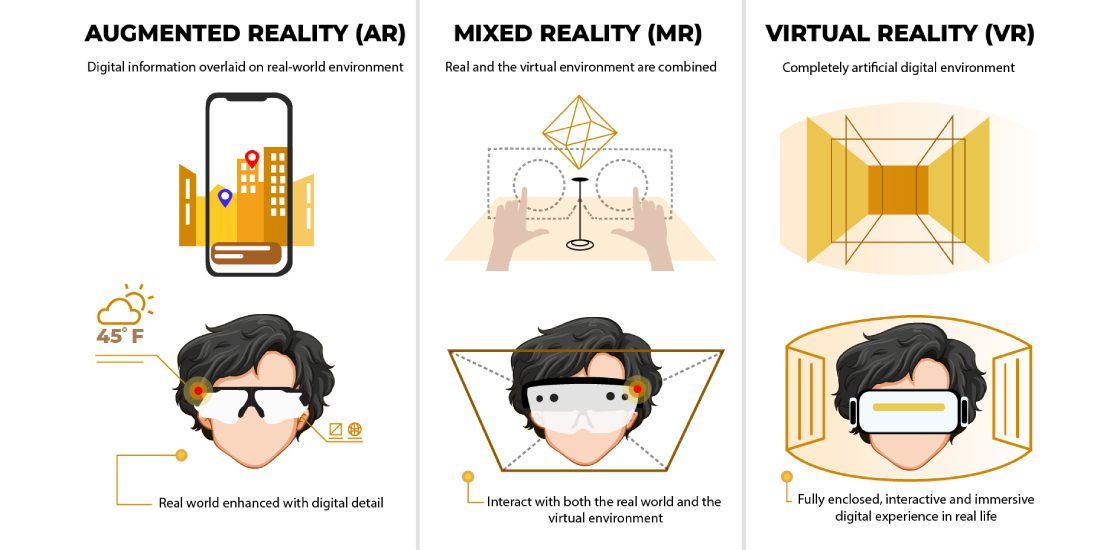 Synopsis:
The potential for change is incalculable as internet technologies are expanding rapidly with the new range of technologies and new ways to make life better. The evolution of mixed reality development services is blending the real and virtual worlds, and opening up limitless opportunities for innovation and learning in all walks of life. The article explores the concept, technology, applications and the future of mixed reality services as a resource for living life greatly.
With novel innovations and advancements, technology has been expeditious in recent years. The boundary between the real and virtual world continues to shrink, providing breath-taking experiences that a short while ago could only be found in sci-fi novels or movies. Whether you are unwinding with a video game, shopping for gadgets or clothes, sharing Snapchat stories, or taking hands-on training, the likes of Virtual Reality (VR), Augmented Reality (AR) and Mixed Reality (MR) services are already making their collective presence felt. So much is happening so fast that along with the reality adoption, funding for reality technology enterprises is rising exponentially.
Locating Mixed Reality in the Reality-Virtuality (RV) continuum
The rise in AR technology, especially in the gaming and retail industry has made it a household name among businesses and consumers alike while mixed reality hasn't enjoyed the same appreciation across the globe.
So, what is so exciting about this MR? Mixed reality blends in the best of both VR and AR technology in which users are allowed to interpret and interrogate digital information with ease. MR services offer an entirely immersive experience wherein users can physically navigate and interact with the virtual data in the real world by simply gazing, gesturing, or speaking.
The difference between these spellbound technologies of VR, AR, and MR that are accessible to almost everyone now, seems a little puzzling at first.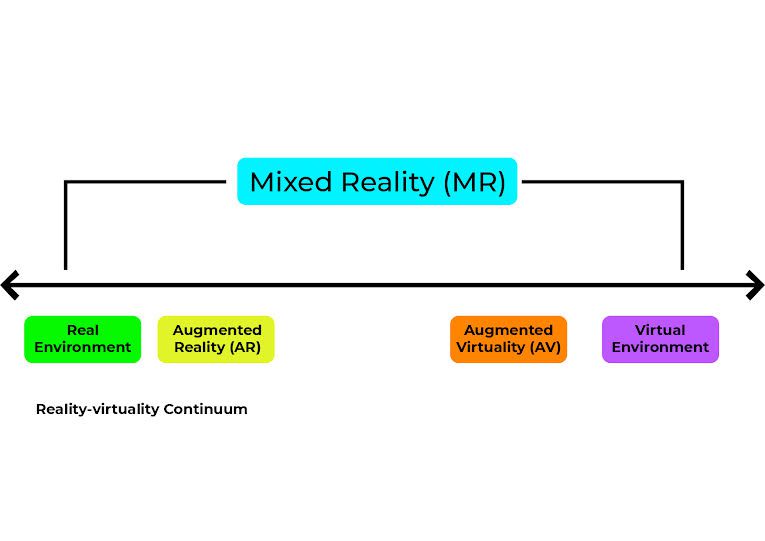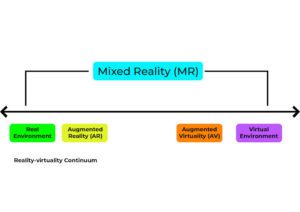 Paul Milgram from the University of Toronto was the first to point out the term 'mixed reality' in 1994 through the concept of the Reality-Virtuality Continuum. The RV continuum, as the chart above depicts, is where the real world and the virtual world are viewed as opposite ends. In their technical webpage, Microsoft clearly defines the structure of mixed reality as, "MR actively blends both physical and digital worlds, the two realities that define the polar ends of the virtuality continuum".
A fusion of both worlds, Mixed Reality and the blurring lines of the real and the virtual world
Mixed reality smoothly creates a new environment where the users can interact with the real and virtual environments simultaneously. The idea is to generate a 3D model of reality and overlap it with virtual information, translating the real world to a virtual 3D model. In order to interact with the digital world, mixed reality services excel at the following technologies:
Recognition features
Spatial mapping
Gaze tracking
Gesture input
Voice support
Motion sensors
Extended connectivity
In a mixed reality environment, users can rotate or move that digital information represented by holograms (objects made of light and sound) in three-dimensional space as being present in the physical. Through artificial intelligence, these holograms respond to commands and interact in the space around the real-world in real time for a more natural and intuitive experience. In short, mixed reality helps you bring your work and data to life when you need it, where you need it.
The best of both worlds – VR and AR meets MR
VR provides complete immersion in a synthetic world unbounded by physics, time, or even fiction for that matter. Using a Head-Mounted Display (HMD), or headset, you will experience a virtual world wherein you can drive and manipulate elements using haptic controllers while tethered to a console or PC.
Pokemon GO is the best-known example of an AR with a record-breaking 130 million people worldwide downloading the application on its release in 2016. AR uses the real world as the canvas for adding digital content. While VR is transportive, AR is transformative.
In the middle, though, is the mixed reality, where real-world and digital elements are brought together that can be interacted with and manipulated using next-generation sensing and imaging technologies. You break down the narrow line between the real and virtual world to an incredibly immersive experience that could change the way you game and work. In other words, MR is a significant advancement of AR or the next generation of AR.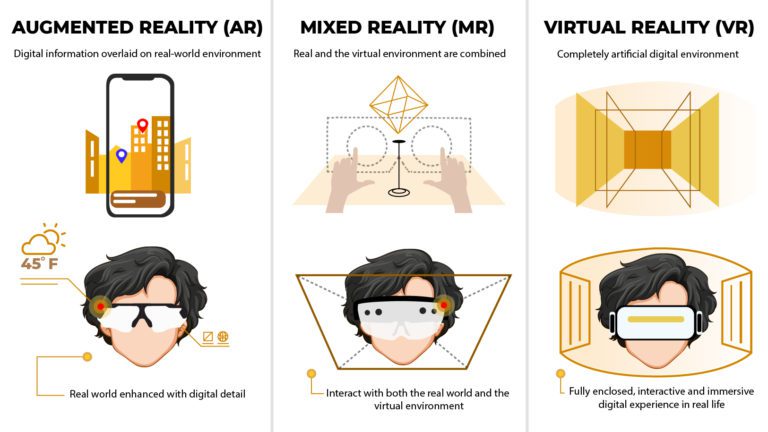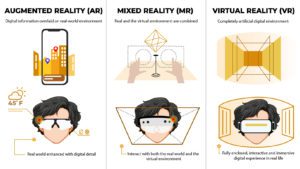 Applications of Mixed Reality Development Services
Businesses are still waiting to discover the full potential of MR as it is still in its formative stages but use cases are emerging across a wide range of industries. Here are a few mixed reality services and industry applications that explains the present and future of reality technologies.
1. Manufacturing
The architectural scenarios within manufacturing gained a great deal of momentum with the advent of MR especially with the positioning and fitting of machinery as the digital renderings of equipment could be moved around in space. It also offers the opportunity to shorten the repair cycle times and provide employee training, without the physical presence of expert staff or complex machinery. Reskill and upskilling of workers and equipping them with troubleshooting scenario experience can be done with ease and quick.
2. Healthcare
MR-related training simulations help the medical students as they virtually work out challenges they could face during real-time situations. Microsoft in collaboration with Pearson, an educational company to create apps like HoloHuman and HoloPatient to train medical professionals to treat and diagnose patients. Remote collaboration is also possible allowing individuals with MR devices to see and interact remotely with co-workers.
3. Education
Mixed reality development services are being used within the education industry to enhance students' ability to learn and take in information, giving students the opportunity to personalize the way they learn. Using the 3D projections and simulations of mixed reality services, students can interact with and manipulate virtual objects in order to study them in a way that is relevant to themselves and to their studies. By inserting three-dimensional objects into a classroom, students can gain a deeper, better understanding of what they're studying.
Mixed reality can forever change the realm of education with its several significant features where the learners can:
Interact with the environment in an immersive experience
Touch and manipulate objects
Engaging learning experiences
Better knowledge retention
Learn any kind or multiple subjects
An example of Mixed reality technology in education is when the Students at Case Western Reserve University in Ohio took advantage of the Microsoft HoloLens 2 in order to learn anatomy. This device enabled professors to teach and interact with their students despite being hundreds of miles away.
4. Automotive, aviation and space Science
Leading automotive industries like Mercedes- Benz make use of this immersive technology to improve engine manufacturing and brake assembly efficiency. French automotive manufacturer, Renault, along with their technology partner, Immersion, adopted the use of HaloLens to improve their quality control processes within its engine assembly processes.
MR can provide real-time experiential training and drive-up digital manufacturing strategy to the aviation industry. Leading aircraft manufacturer Airbus tested how Microsoft's HoloLens 2 headset would work in an MR environment for training, designing, and manufacturing.
The mixed reality software, OnSight, which was developed in collaboration between NASA's Jet Propulsion Laboratory and Microsoft assisted the engineers and scientists in exploring Mars virtually.
5. Gaming and Entertainment Industry
Augmented Reality games and apps are coming out in full swing after the success of Pokemon GO, with a series of games that occur in the real world with virtual objects and characters triggered by geolocation or special markers. You have a plethora of choices from quest games like Temple Treasure Hunt, shooters like Real Stroke, horror games such as Zombie Go, and drone games like Air Hogs Connect.
Mixed reality development services in entertainment have already gained popularity with companies like Magic Leap, Lucasfilm, and Industrial Light and Music all looking forward to the idea of interactive storytelling.
The application of MR technology extends to enhance online shopping by enabling customers to view and interact with products in virtual showrooms or placed virtually in their own homes before making the purchase decision. Public service and military training with MR solutions is yet another area to equip people with increased situational awareness and tackle tactical situations in a more efficient, smart, and safe environment.
Increasing marketplace for MR headsets
The AR and VR market had sold 8.9 million units by the end of 2018, which is expected to grow to 65.9 million by 2022. The AR and VR headset sales are supposed to grow to $9.7 billion by the end of 2021. Keeping in mind that MR headsets are still in their formative stage, here's a look at some of the major players in the mixed reality headset marketplace:
Microsoft HoloLens
HoloLens 2 is a pair of MR smart glasses from Microsoft that features a Qualcomm Snapdragon 850 compute engine alongside a custom AI holographic coprocessor.
Magic Leap 1
The Magic Leap 1 may not be the most advanced headset available today, but it still acts as a powerful spatial computing system in the form of connected goggles with a processing unit that can be controlled using a handheld touchpad.
RealWear HMT-1
This headset is capable of summoning heavy data such as user manuals and usage data for the range of warehouse and engineering tasks, hence best suited for enterprise workers.
Oculus Quest
The social giant, Facebook's Oculus Quest Headset is an ideal device for enterprise training particularly useful at a business level. This is due to the business software, Oculus, a suite that combines device setup and management tools, enterprise-level service, and user experience that is customizable based on the business use case.
Future of MR
The future of MR is bright as it has the potential to greatly enhance our daily lives and change how we perceive and interact with our environment. In a world that is forced to evolve at a faster pace due to the Covid-19, Mixed reality elevates the potential of AR, VR, and IoT technology and fills the gaps within the remote and hybrid work environments.
Through our Mixed reality development services, Travancore Analytics has been helping organizations bring their services to life through applications that combine the best of digital and physical realities. Even though these are the Wild West days of immersive technology, MR is going to be ready for mass adoption soon. If you are looking for Mixed reality development services, get in touch with our team of experts.
Final thoughts 
Mixed reality applications are slowly changing the digital landscape and are gradually extending its reach in almost all fields of technology, learning, training and so on. Tech giants like Apple, Samsung, Facebook etc., are exploring the potential of mixed reality technologies and are investing heavily in developing these technologies for a better future.  As technology and the internet continues to flourish, it seems sensible to expect the further integration of Mixed reality into our lives.
Hola! You have reached the end of this article. Thankyou for reading! If you are still having mixed feelings about mixed reality, get up and mail us now at contactus@travancoreanalytics.com