No-Code: The Way Forward in Digital Transformation

Imagine making apps and websites without any code! Sounds too good to be true. Lo and behold, the #NoCodeMovement is the new disruption in technology, where one can deliver their product in minimal time and with the available resources as easy as pie.
No-Codes are platforms that allow programmers and non-programmers to develop application software through Graphical User Interfaces and configuration instead of the traditional computer programming. This replaces the use of complex coding practices and ensures faster software development and solutions. Bubble, Appsheet, Shopify, Share Tube, Webflow are some of the most popular No-Code applications.
Easy To Use
Allows non-programmers to pump out apps or workflows quickly. It is useful to both developers and business users, and is great for companies with a backlogged development team and is in need to utilize business users as developers.
Better Agility
Enables a faster and quicker way of building apps as most development is done via a drag-and-drop interface built visually with pre-built modules. In addition, testing is generally automated which further cuts down on development time.
Reduced Cost
Developers are expensive and no-code acts as a bypass eliminating the overhead of requiring a skilled team of developers on staff all the time. Thus in the long run anyone can build apps faster and cheaper.
Increased Productivity
Works that took weeks and months can now be completed in hours or days. The building of apps occurs at such a faster pace that the IT staff are no longer burdened with requests from every other department, and there are now fewer people waiting for the work to be done.
Easily Changeable
A major drawback of traditional hand-coding is that you cannot really change a functionality or feature at the drop of a hat, especially if coding happens in a language foreign to the support system. With no-code, one can make changes in no time, implementing a new logic is just a click away.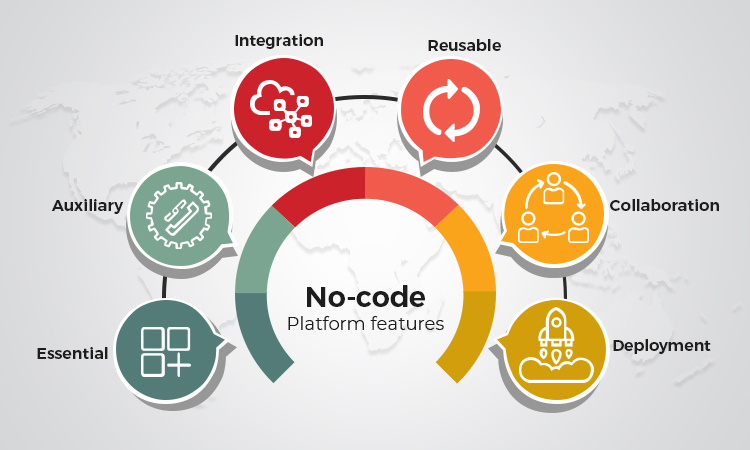 Why should businesses choose No-code ?
Enables easy market viability study of products with the easy building of prototypes

Quick creation of MVP for startup companies helping them to get the proper funding for full-fledged application development

Provides solutions for companies to deal with the parallel trends in an increasingly mobile workforce alongside a limited supply of competent software developers

Quick fix for specific business functions such as data capture or workflow 

Integrate entire enterprise resource planning tools into a mobile form factor
No-Code using Bubble and Appsheet
Bubble
Bubble is one of the most advanced visual programming application that helps environments to build robust web apps. 
Enables the creation of a desktop or responsive web application that fits any screen size. 

Supports larger and more complex software projects without code. 

Provides a lot of native features to build powerful web applications.

Enables non-technical people to build web-applications with minimal to no coding skills. 

Users can just draw the interface by dragging and dropping elements onto a canvas and can use defining workflows to control the logic. 

Offers API integrations, Templates and Plugins. 

Prior knowledge of spreadsheet and spreadsheet formulas are not required to create applications, is its biggest advantage. 

Bubble editor offers a wide flexibility that allows experienced developers to achieve pixel-perfect products with complex designs.
AppSheet
AppSheet  is a google cloud based no-code platform which can be categorized as a workplace innovation platform.
Aids no-code development using data sources like Google Drive, DropBox, Office 365, and other cloud-based spreadsheet and database platforms. 

Based on spreadsheets and spreadsheet formulas and can convert the uploaded spreadsheet into an app without manpower. 

Enables the creator to make additional changes using spreadsheet formulas. 

Prior knowledge of spreadsheets is necessary, can be regarded as its weak point. 

Problem of licence fee extended to per user , the creators having to pay more for their app to sync faster compromises are its limitation.

Possibility of building both desktop and mobile based solutions provides AppSheet an advantage over Bubble.
Drawbacks of No-Code platforms
Among its many advantages No-code platforms contain certain drawbacks such as,
Reduce innovation.

Prevent Al from making novel changes and variation in codes. 

In the case of  Bubble, the platform only allows the deployment of apps created inside the Bubble space hindering the app's visibility and makes it less client friendly.
Travancore Analytics extends its support and expertise in developing mobility solutions using no-code platforms.
No-code solutions from TA can help prospective customers in creating a prototype in a  very short time and can be put in to check the market viability or user support.

Travancore Analytics has teamed up with both Bubble and Appsheet in providing quick solutions to our customers in banking, recruitment, and e-commerce.
The Apps developed by TA using no-code are:
Xchange

, an online barter system-based application for the exchange of used items. Here, the users can add items for exchange and can match their wishlist with other users having similar wishlists where they can either accept or reject the offer. If both the users accept the offer, the app allows the mutual exchange of products. We could successfully complete the work in just

three weeks.

Hire Job

, a job portal that provides desired job postings and requirements based on the candidates priority uniformly integrating the candidates, companies and the administrators/ agents. Within

one week

, we could make this app live.

Travancore Analytics also did extend our skills for Shopify, another leading no-code e-commerce solution platform.The experience of working with Shopify  has given us an edge over other companies in the no-code low-code platform.