Category: Internet of Things,IoT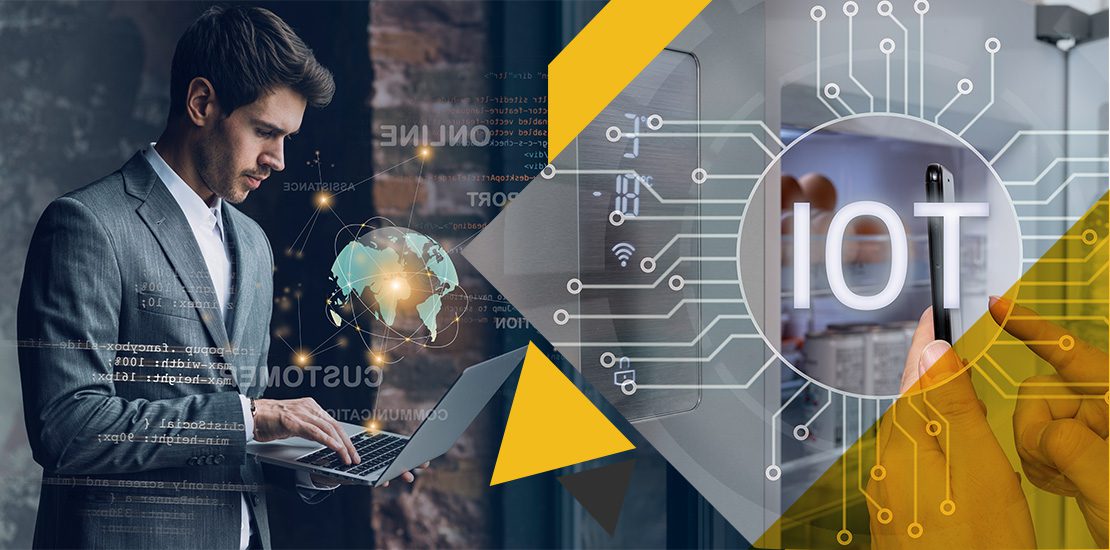 IoT opens the door to countless opportunities in the industrial world. Through a wireless network, machines, apps, devices, and even cars may communicate and exchange data. Nearly all Internet-connected devices in workplaces, buildings, houses, and wearables can exchange data with other hardware and software. IoT app development companies in USA are assisting a number of domains including agriculture, energy, finance, healthcare, manufacturing, retail, hospitality, and even transportation, to improve their services.
In an increasingly interconnected world, the Internet of Things (IoT) has emerged as a game-changer, revolutionizing the way we interact with technology. IoT applications are at the forefront of innovation, impacting industries ranging from healthcare and manufacturing to smart homes and agriculture. If you're in search of the best partners to turn your IoT ideas into reality, you're in the right place. Enterprises can identify new business opportunities and increase their return on investment by carefully choosing the right IoT development partners. In this blog, we will explore the top 10 IoT app development companies in the United States, where expertise meets cutting-edge technology. These companies have demonstrated excellence in harnessing the power of IoT to create innovative solutions that drive efficiency, productivity, and a brighter future.
Here is a list of the top 10 Internet of Things (IoT) development companies in the United States that have demonstrated their prowess in creating reliable IoT applications.
10 Top IoT App Development Companies in USA
1.) Travancore Analytics
Travancore Analytics help enterprises, start-ups, and OEMs build connected devices and IoT gateways, communicating over different connectivity protocols providing cloud collaboration solutions and services (SaaS, PaaS, migration, integration) to various industries. Their team of expert engineers provides efficient solutions in developing lightweight firmware applications suiting the client's demands in various domains like healthcare, manufacturing, hospitality, construction and home-automation. TA'S IoT development services include hardware & firmware development, sensor identification, data acquisition, cloud/mobile app development, predictive maintenance and analytics and visualization.
      Founded in   

– 2007

      Strength        

– 250-1000 employees

      Website         

– https://www.travancoreanalytics.com/

      Key clients     

– Zonehaven, GoodMaps, CapitalOne, PWC

      Contact details –

Travancore Analytics Inc., 4900 Hopyard Rd Suite 100 (#29, Pleasanton, Alameda County California 94588, United States. Ph: +1 925 596 1554
2.) HQSoftware
As a one-stop shop for IoT solutions, HQSoftware concentrates on all facets of IoT ecosystems. Their IoT domain experience enables businesses to automate operations, improve decisions based on improved data, and reveal new prospects for products or services. They are experts in developing web and mobile applications as well as IoT, Big Data, AI, Machine Learning, and AR and VR solutions. The company offers services to a variety of industries, including manufacturing, healthcare, finance, education & e-learning, insurance, and more.
      Founded in   

– 2001

      Strength     

   – 50-250 employees

      Website         

– https://hqsoftwarelab.com/

      Key clients    

– Fastmatch, Skoda, UNDP, BBC, Sega

      Contact details –

HQSoftware, 315 Madison Avenue #3045, NYC, New York 10017. Ph: +19177203806
3.) MobiDev
MobiDev is a highly regarded software development business that creates both conventional and AI-powered Web and mobile apps from scratch as well as integrates AI/ML components into existing systems. MobiDev works with creative businesses to assist them in utilising the latest technologies for business expansion. Their IoT knowledge extends beyond a select few technology stacks. They seek to make each solution dependable and to offer a workable roadmap based on company expansion.
      Founded in   

– 2009

      Strength        

– 250-1000 employees

      Website         

– https://mobidev.biz

      Key clients    

– BarTrack, GroupWell, Comcash, Verizon media

      Contact details –

MobiDev, 3855 Holcomb Bridge Rd. Suite 300, Norcross, Georgia 30092. Ph: +1 888 380 0276
4.) Hyperlink InfoSystem
As a leading global web and app development business, Hyperlink InfoSystem provides a wide range of IoT solutions and embedded development, from smart home gadgets to industrial security enhancement solutions, with the power of machine learning and advanced analytics for practically any industry. The 650+ member team of designers and developers has the expertise and experience to create IoT solutions that are intended to benefit customers and make sense.
      Founded in   

– 2011

      Strength        

– 500-1000 employees

      Website         

– https://www.hyperlinkinfosystem.com/

      Key clients    

– Disney, Google, Tata, Kantar Media

      Contact details –

One World Trade Center, New York, NY 10007. Ph: +1 309 791 4105
5.) Reinvently
A group of enthusiastic design-thinkers, inquisitive product strategists, creative digital transformers, and certified solution architects make up Reinvently. More than 200 commercial mobile apps for small and medium-sized enterprises have been developed by them. They may lay the foundation for your IoT strategy by making sure all-important requirements are taken care of and incorporated into a solid product roadmap.
      Founded in   

– 2010

      Strength        

– 50-100 employees

      Website         

– https://reinvently.com/

      Key clients    

– Gracenote, Live Nation, LOOKSERY, Men's Wearhouse

      Contact details –

Reinvently, 125 University Avenue, Suite 290, Palo Alto, California 94301. Ph: +1 (877) 951-2224
6.) Titoma Design for Asian Manufacturing
Titoma offers assistance to businesses all around the world with unique electronic device design and production. They design and create embedded electrical products, frequently using Nordic's STM32 processor, ESP's WiFi chip, and Bluetooth from Nordic. They also make industrial equipment and are part of the Internet of Things (IoT), which is wirelessly connected.
      Founded in   

– 2001

      Strength        

– 100-500 employees

      Website         

– https://titoma.com/

      Key clients    

– Logitech, IBM, ABB, Heineken

      Contact details –

200 S. Virginia St. #100 Reno, NV 89501. Ph: +1 775-525-8139
7.) Solution Analysts
Solution Analysts is one of the top companies for enterprise software development and digital transformation. They specialise in creating unique solutions in the areas of Internet of Things (IoT), Robotic Process Automation (RPA), Enterprise Mobility, Mobile and Web Apps, SAAS-based Application Development, Cloud & DevOps, Data Engineering, and AI Engineering Services. Since their founding in 2011, they have created more than 1100 unique, cutting-edge digital transformation solutions that have not only made business processes simpler but also dramatically reduced costs, improved revenues, and given businesses the ability to make more data-driven decisions.
      Founded in   

– 2019

      Strength        

– 50-300 employees

      Website         

– https://www.dotcom.co.in/

      Key clients    

– Brabble, VaPAY, RZLTS, Everbadge

      Contact details –

Solution Analysts, 31236 Meadowview Square, Del Mar, California 19940. Ph: +1 (732) 927-5544
8.) Michigan Software Labs
Michigan Software Labs creates specialized mobile, web, and Internet of Things (IoT) software for clients ranging from small- and medium-sized enterprises to Fortune 500 corporations. As a pioneer in UX/UI design, Michigan Software Labs has amassed millions of users to date. Clutch awarded Michigan Software Labs as one of the Top UX Design Companies in the United States.
      Founded in   

– 2010

      Strength        

– 10-100 employees

      Website         

– https://www.michiganlabs.com/

      Key clients    

– Kawasaki, Caterpillar, Landstar, Unied Way

      Contact details –

Michigan Software Labs, 452 Ada Drive SE Suite 300, Grand Rapids, Michigan 49301. Ph: +616-594-0269
9.) SoluLab
One of the best blockchain development firms, SoluLab has over 50 million active app users and a 97% customer success rate in the market. For startups, small businesses, and major corporations, their award-winning enterprise software solutions offer full-spectrum, 360-degree services. They are experts in cutting-edge technologies like blockchain, augmented and virtual reality, chatbots, cloud computing, the internet of things, and more.     
      Founded in   

– 2014

      Strength        

– 50-500 employees

      Website         

– https://www.solulab.com/

      Key clients    

– ClickTool, Ze Cash, ModThread, Plotos

      Contact details –

SoluLab, 6016 Fallbrook Ave. #101, Woodland Hills, Los Angeles, California 91367. Ph: 347 270 8590
10.) Team Tweaks Technologies Pvt Ltd
Team Tweaks is a renowned mobile app development and devOps firm that excels at developing state-of-the-art software products and IoT solutions for several clients across the globe. Their tech-savvy crew produces cutting-edge products that are proficient, strong, and secure in every way. IoT experts in Team Tweaks provide a variety of products, from smart water management systems to asset tracking systems, for different sectors like agricultural, energy, retail, and so forth.
      Founded in   

-2013

      Strength        

– 50-300 employees

      Website         

– https://www.teamtweaks.com/

      Key clients    

– DriveX, Fashmates, Neetbook,  TVS

      Contact details –

103 Lake Royale Louisburg, NC 27549 United States. Ph: +1 (919) 696-3493
In a world increasingly shaped by connected devices and smart technology, the role of IoT app development companies cannot be overstated. The companies listed above represent the top IoT app development companies in USA, offering a wide range of services, cutting-edge solutions, and a proven track record of success. Whether you're a startup with a groundbreaking idea or an established enterprise looking to streamline your operations, these companies have the expertise to turn your IoT dreams into reality.
As the IoT landscape continues to evolve, staying ahead of the curve is essential. Choosing the right partner is the first step in your journey towards IoT success. We hope this list of the top IoT app development companies in USA serves as a valuable resource in your quest to bring your IoT projects to fruition. The future of innovation is in your hands, and these companies are here to help you shape it.