Category: AR in aviation,AR software solutions,augmented reality in aviation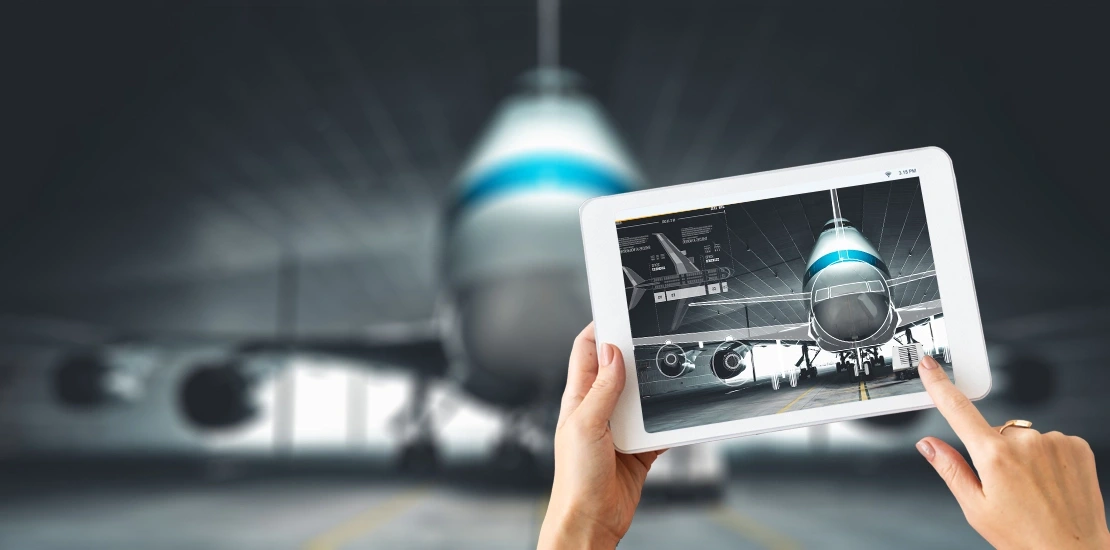 Over the last few years, the aviation sector – which is not untouched by the effects of the digital wave – has seen evolving to meet and fulfill both passengers and airlines' needs. Being a highly competitive and mission-critical industry, this industry is simply reacting to new technologies and following trends to keep up with the demands and expectations of modern passengers. Augmented reality in aviation is one such game-changer, that is trending now. The successful adoption of Augmented Reality or AR has come a long way in the last few years, as the global economy has struggled and the need to improve operational efficiencies and safety training has grown in the aviation industry.
Let's dig deep into the topic:
Augmented Reality in Aviation
Over the last decade, there has been a drastic change in the way the airline industry caters to the 3.6 billion passengers it sees per year and AR is one such ground-breaking technology that has paved the way for the digital transformation of the aviation industry. Companies in this sector are constantly looking for ways to improve their productivity and optimize the working process because as the sector itself deals with a high degree of concentration and precision processes, a mistake here might cost the company millions of dollars. As a matter of fact, one of the potential ways to improve performance and reduce losses in the aviation sector is to make a significant upgrade by incorporating cutting-edge technology like augmented reality into various procedures and systems.
The immersive aspects of AR can be used to address some of the potential dangers associated with flying. That is, this technology can make testing, training, and flying experiences safer and more efficient, from aircraft planning and production to augmented reality aircraft maintenance and repair.
Benefits of Using Augmented Reality in Aviation
Eager to know what benefits AR in aviation offers? Check out below for the main benefits of AR in the aviation industry which are quite apparent for both airlines and passengers.
Streamlined operations
Improved safety, speed, and accuracy – leaving no room for mistakes.
Convenient data access and instructions at anytime
Reduction in downtime and operation costs
Offers faster ramp handlings and error elimination
Provides a more efficient and accurate assembling process.
Enhanced audio\video communication and solve problems a lot quicker.
Improve cable harnessing
Safer and immersive training.
Increase ROI
Reduce losses caused by delays and repairs.
Applications of Augmented Reality in Aviation Industry
AR in Aircraft Maintenance and Repair: 
Augmented reality aircraft maintenance brings significant improvements in terms of safety and improves the performance of workers as well. Before the AR introduction, one has to refer to manuals for routine maintenance checks or conducting repairs – which can be a time-consuming and unwieldy process. But now with AR, the technician can get real-time details right in front of them any time they need it with a combination of technologies such as 3D scanning, sensors, and others.
With such a comprehensive inspection, augmented reality in aircraft maintenance can become incredibly successful – which brings safety to the industry – and also improves collaboration between the workforce, keeping the technicians engaged in their tasks with minimal distraction, misinterpretations, and unnecessary downtime.
AR in Air Traffic Visualization

: 
Air-traffic visualization can be more effective with augmented reality, as pilots will be able to have a 360-degree view with statistics and virtual images. AR will make air traffic clearly visible to pilots and help them to fly safely.
Do you know that training has a supreme impact in the aviation industry, because, without the right training, you will be risking many lives. However, AR has proved its efficiency and safety while using it for training in the military industry, but is it the same for the aviation industry?
Well, we can say YES, because, with augmented reality, you can provide immersive on-the-job training for personnel and can also repeat the training as much as they want until they become proficient, without any additional costs involved.
For instance, aircraft engineers can use augmented reality glasses in simulating and testing installation processes – without the risk of error that could seriously impact lives. Moreover, sometimes, there may be a scarcity of expensive assets, such as engines or other costly components on which recruits are expected to train, but by giving training with AR these issues can be solved efficiently.
AR in Aircraft Manufacturing

: 
Assembling or manufacturing aircraft is a highly complex process, and if we get a technology that can make this process easier, we might want to get hold of it. Augmented reality is one such technology that can ease the aircraft assembly process.
For instance, to quickly assemble an aircraft, an augmented reality-powered wearable can be used by engineers that would provide real-time visual instructions – leaving no room for errors.
AR for pre-flight checks

: 
The use of Head Mounted Display (AMD) based on AR technology helps pilots to create a virtual checklist to help with pre-flight checks – when he/she is getting ready to taxi the flight – and depicts runway information and instructs the pilot towards their designated runway. Through this AR device, pilots can also receive alerts of other flights taking off, landing, or taxiing.
In a Nutshell,
We can clearly see how flexible AR can be and how it can disrupt the world of aviation. With their potential and proven impact on training, safety, and entertainment, AR software solutions will certainly be commercial flight requisites in the not-so-distant future as the opportunities of augmented reality in aviation are becoming more and more obvious to the largest aerospace companies in the world. Moreover, the technology that is already being developed at a rapid rate extends its influence way beyond aviation applications.
Stay up to date with the latest Augmented Reality news from TA!