Category: Economics,Web Applications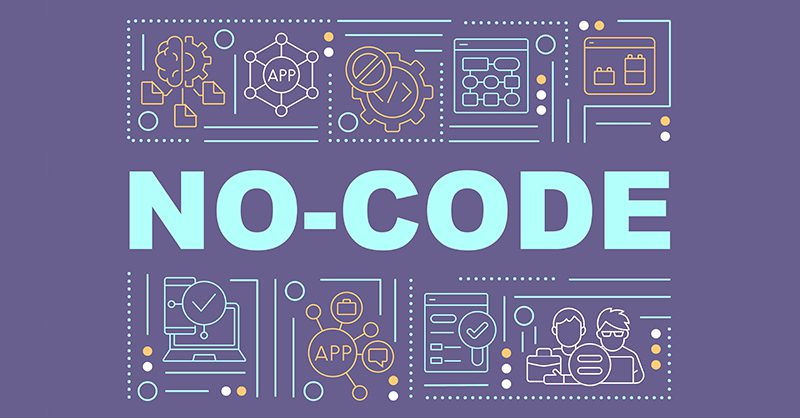 In today's fast-paced world, most companies expect fast development and faster results. Not just the companies with finer technology but the ones with limited supply of competent software developers too aspire for this faster growth. In this context, comes the No-Code Application Development platform that can provide the best solution for both these companies. 
Now let us dive in, examine and scrutinize some prominent No-Code Applications.
Comparison of No-Code Applications
Bubble is the undisputed leader in the No-Code movement. It offers a powerful point-and-click web editor and cloud hosting platform that allows users to build fully customizable web applications and workflows, ranging from simple prototypes to complex marketplaces.
Bubble is the perfect tool for you, if you have an idea and would like to deploy it. It's as simple as, you just have to think an idea, execute with Bubble and go to market. It enables one to build an MVP reasonably quickly without any necessary knowledge in  JSON or React or other coding languages. It also provides good support for API's.
It would have been more preferable and beneficial if Self-hosting option was made available. Sometimes to execute complex tasks, code is still a necessity, can be considered its major disadvantage.
AppSheet is a google cloud-based application that assists to create apps that can transform your workplace. It helps you build an App in 4 Ways:
1) through connecting data sources (e.g. Excel, Google Sheets, SQL, etc.).
2)  by copying from a sample app.
3)  using an Add-On for Google Sheets, Forms, or Excel.
4)  from SPEC, our natural language declarative programming tool.
It is easy to deploy on any IOS or Android device and facilitates connection with any type of program with synchronized data such as Google Calendar. It also permits integration with programs such as Microsoft Excel.
In documentation and training Videos, it's hard to find the related questions and solutions. If one wishes to create any fancy app's, including external content or a more modern design, you cannot, is another appsheet limitation.
Airtable resembles a spreadsheet, yet more powerful. Airtable's building blocks enable teams to model the things they work on, define relationships between things, and create views explicitly tailored for their type of work. It allows a number of users to connect, integrate and produce different skills in the same room within the platform. It executes the filtering and refreshing of sensitive data thereby saving a good deal of time.
It doesn't hold the same functionality to develop on mobile devices. It is difficult to understand, and the functions offered are limited when compared to other spreadsheet software.
Comparison of No-Code and Regular Development Platform
Regular Development Platforms
Regular development platforms comprise a team of developers and programmers to create custom code for clients meeting their specific needs.   
This traditional application development approach consists of a variety of tools and performs multiple functions, which helps developers in creating highly complex applications. One requires sophisticated technical skills to be able to operate these apps effectively. 
Though this traditional approach is perfectly acceptable  and works just fine, the projects that are created using regular development platforms are often complex, expensive, and are delayed due to multiple factors such as:
1) Various software coding errors
2) Inaccurate estimation
3) Testing challenges
4) Several infrastructure delays
5) Regular and continuous  maintenance cycle
No-Code Development Platforms
Unlike custom development, No-Code platforms enable developers to develop business applications without writing any code or requiring any programming expertise.
No-Code platforms are advantageous in multiple ways such as providing accessibility to masses, speed, and affordability. These platforms extend robust visual software interface that permits the user to create their application with easy-to-use features such as:
1) Drag and drop modules
2) Spreadsheet imports
3) Picklist selection boxes
However, No-Code development platforms put forth only limited options for companies to develop customized software. Building applications on a No-Code development platform limits integration options for developers, raising a significant challenge for enterprises with legacy systems that are integral to their business operations. Also, most No-Code platforms only offer a limited number of templates.
Where do No-code Platforms Work Best?
A No-Code platform is an ideal solution when –
1) businesses and enterprises want to create their own applications.
2) an application is needed for normal business use.
3) no homogeneous solution is available for solving the problem in application development.
No-Code application is a great step to increase productivity and get more out of a limited task force. No-Code platforms help companies to reduce cost, increase productivity, escape skill shortage and time management. These days, more and more companies are expanding into the realm of  No-Code and Low-Code development. It is gradually becoming a natural part of the software ecosystem increasing productivity, finding easy solutions and facilitating collaboration.