A Way Forward in Software QA Testing Services
With us, reliability and performance is within your reach
Software testing services for the smooth sailing of your products
The idea you possess becomes a great product or service when the output aligns with the essential requirements. Even the smallest flaw might set off a never-ending spiral of customer resentment. Not only customers, but nobody wants a faulty product or service. Software testing services are what ensure the flawless performance of your software in the face of adversities. The effective deployment of your software is now dependent on a single, critical factor: the software testing services company you pick.
Software QA testing services will save you from the embarrassment incurred when the customers discover the fault in the software. Sparing you from this dilemma is a piece of cake for our testers at TA. We at Travancore Analytics, excel in the provision of quality assurance and testing services with a lifetime of experience in diverse verticals.
" Testing is a process of discovering about your product through failures and successes. And a software testing services company is an aspect that will assist you with this procedure. "
Types of
software testing
With its roots in quality assurance and testing services, software testing evaluates the functioning of a piece of software or detects problems in order to deliver a superior product.

Manual Testing
Manual testing is the practice of manually assessing software to discover shortfalls. Here the tester will think like an end-user and make sure that the functionalities are consistent with the requirements. During this method, testers run the test cases and generate the results by hand, without the use of any automation tools.
The process of testing software using automated tools to detect faults, is known as automation testing. Automation tools execute the test scripts and generate the results automatically. Thus we are able to identify and operate on factors that influence the end results in real-time. Some of the most common tools for automated testing are Ghost Inspector, Appium, Selenium, Cypress, and others.

Software testing services
we offer
Our team of highly skilled software application testers is exceptionally versed in a variety of testing tools and modern technologies. As a software testing services company, we offer a plethora of services, the most significant of which are given below:

Regression testing
The addition of new features to existing or developing software may interfere in the proper operation of present features. Regression testing enables testers to alleviate this problem. This testing method ensures that any changes or additions to the software do not compromise with its existing functionalities.

Performance testing
In order to stay on top of your game, your software's performance must not fall short of the customer's demands. Performance testing is the best technique to ensure that the software never fails in the face of adversity and that your customers are satisfied. It is a non-functional testing technique employed by software testing services companies to examine how well an application's stability, speed, scalability, and responsiveness perform under a particular workload.

Security testing
Specific features of confidentiality, integrity, authentication, availability, authorization, and non-repudiation are often included as part of security requirements. To ensure that everything is in order, the testers perform security testing, exposing the vulnerabilities in the software's security measures, that are responsible for safeguarding data and maintaining software functionalities.

Integration testing
It's a relief when individual components or modules operate flawlessly, but that doesn't mean it will last forever. Chances are high that the integration of new elements will affect the functionalities of the entire group. In line with this, integration testing ensures the smooth and proper working of elements even after being integrated into a group.

Mobile testing
The number of mobile phones and applications is growing on a regular basis. When developing a new application, you must test it to ensure that it functions properly. Our mobile application testing ensures that mobile application software is verified for functionality, usability, and consistency.

Cross-platform testing
Almost never is an application designed for a specific platform, your app will be used across multiple platforms. Our testers make sure that your application operates across numerous web and mobile (Android & iOS) platforms by doing cross-platform testing.

AR/VR testing
There are several elements that contribute to the smooth operation of AR/VR applications. The major factors that ensure the proper behavior of the software on the AR/VR gadgets include proper operation of the environment scan, redirection of the correct information from the AR/VR model, and so on. To validate the foregoing, our testers conduct AR/VR testing that includes functionality, usability, hardware, and immersive testing.

API testing
User interface tests are typically inefficient for evaluating API service functionality and often fail to cover all areas of back-end testing. This can lead to persistent and stubborn issues lingering in the server or unit levels. API testing examines an application program interface to ensure that it performs as expected in terms of functionality, security, performance, and dependability.

Accessibility testing
Making certain that your product or service is available to people all over the world is a necessary step for your business journey. Allow us to do an
accessibility test
on your web and mobile applications to ensure that they are accessible to people with disabilities and other physical or cognitive conditions.

System testing
The idea of all the components coming together and working as they should is what is considered a successful end to the development process. However, it is prudent to test the entire system before deployment. Here, our tester runs test cases to ensure that the integrated and completed software will meet your desired criteria.

Usability testing
The goal of any development process is to build something that is easy to use. Even if the product is of good quality, performance, and so on, the ultimate question is how simple the design is to use. Usability testing is the best way to ensure the simplicity of the software. It also investigates the end-users ease of use in terms of learning, operating, and preparing inputs and outputs.

UI testing
Often, end-users are less concerned with how things operate in the background, what is in front of them and how they function is all that matters to them. In UI testing, our testers carry out a process of testing the visual parts of the software and checking whether they accurately satisfy the required performance and functionality of the software.
Software quality assurance service process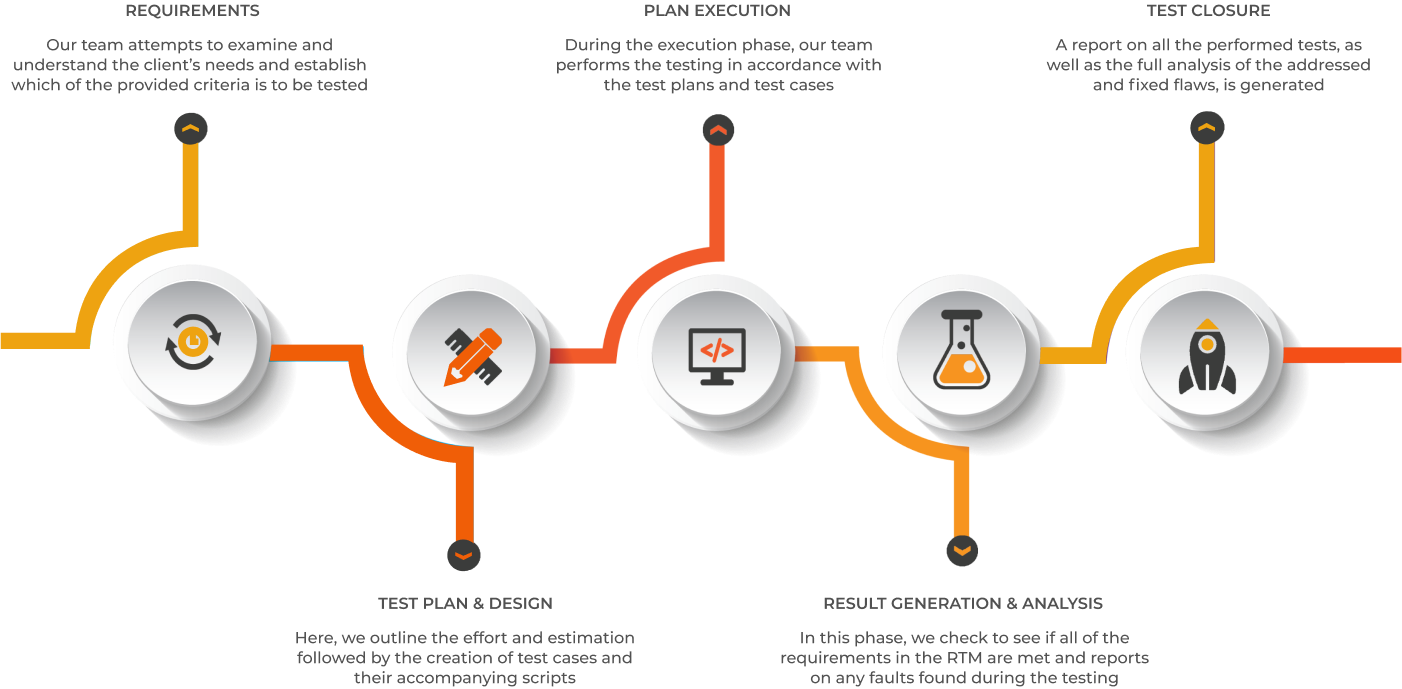 A testing framework is a set of standards or rules that are used to create and design test scenarios. This collection of methods and technologies are meant to assist professionals to test more efficiently. Choosing the appropriate framework is an essential part of providing quality assurance and testing services.

Carina
Carina is a Java-based test automation framework that connects all testing layers, including mobile applications (web, native, and hybrid), web applications, windows applications, REST services, and databases.

Pytest
PyTest is a testing framework that allows users to develop test code in Python. It aids in the development of simple and scalable test cases for databases, APIs, and user interfaces.

Cucumber
Cucumber is a Ruby-based open-source software testing tool. It allows anyone to write test cases regardless of their technical knowledge. It enables the individuals involved to automate functional validation in an easily legible and comprehensible style.

TestNG
TestNG is a Java open-source test automation framework, built on the same lines as JUnit and NUnit. Its advanced and resilient framework allows the developers and testers to make use of numerous annotations and parameterization features more simply than its competitors.
The evolution of testing procedures, tools, and techniques has rendered the testing process a stand-alone act. As a software testing services company, we make certain that the skills of our expert team are complemented with cutting-edge testing tools.
Related articles that might
interest you
Discover how Travancore Analytics can help in the testing of your software. Get a quote today